Rachel Lawlor: A Woman for the Earth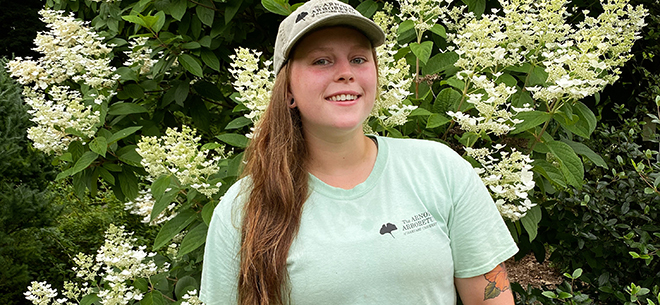 The Arnold Arboretum, a stunning 281-acre outdoor garden, is a wondrous place to explore. Visitors and residents enjoy the flora and fauna yet may not always appreciate the work and science that goes on behind the scenes to maintain and nurture this treasured institution. On the eve of Earth Day, Panorama spoke with Rachel Lawlor, a gardener at the Arboretum.
Weymouth, Mass. native Rachel Lawlor began her career in animal science before recognizing how drawn she was to horticulture and natural resource management while attending Norfolk County Agricultural School in Walpole, Mass. She enjoyed taking care of ornamental plants and taking experimental classes, and that's when she knew she'd major in horticultural science and went on to UMass Amherst for her undergraduate career.
Horticulture, Lawlor explains, is "using plant physiology, botany and even some insect biology and other disease biologies to take care of plants."
At university, she started out with the basics: botany soil science, plant identification and then more specific classes like plant physiology, plant materials, postharvest biology and plant pathology. Lawlor took different greenhouse cultivation courses as well as nematology (the study of roundworms!). She was then selected to be an Isabella Welles Hunnewell Horticulture Intern, where she then fell in love with horticulture, as a whole subject.
The Isabella Welles Hunnewell Horticulture internship, Lawlor describes, is a program consisting of college students from around the country, who study horticulture, ecology, botany plant science and biology—anything related to horticulture and arbor culture. "Nine interns usually work at the dean and greenhouses at the Arboretum. Another arborist, in turn, works in the curation of the record-keeping department. And then the rest of the other five work in horticulture, where I was," said Lawlor. "The interns work alongside the horticulturist and the gardeners at the Arboretum with different tasks. Weeding, mulching and pruning are probably the 'big three' for interns, and they might get some experience on basic equipment." The internship lasts three to four months over the summer. Lawlor eventually returned to the Arboretum to do seasonal work and earned the full-time position she occupies now.
Besides wandering the Arboretum, of course, Lawlor enjoys going to Jamaica Pond, Boston Common and the New England Aquarium. "There're a lot of different places that one can get some green space or see some wildlife," said Lawlor.
With Earth Day upon us, Lawlor reflects on what she values most about the international holiday. "Earth Day to me means a time to reflect on our practices and how we're taking care of the planet, and ourselves. I think year-round, people should be conscious of their carbon footprint and recycling. We're celebrating the Earth that has given us everything to live and survive! So that just reinforces us to be stewards of this planet and making sure if there's anything we can do to change what we're doing." Lawlor says meatless Mondays are a possibility and stresses reusable straws. "You don't just want town-wide cleanups this one day a year. You want to use Earth Day to get people excited and make sure they're thinking about the planet and the environment as well as climate change."
Lawlor credits environmental justice advocates Rachel Carson and Julia Butterfly Hill, and her high school and college professors, as her inspirations. Butterfly Hill lived in a tree (affectionately known as Luna) for two years to prevent loggers from cutting it down. She then authored The Legacy of Luna in 2000. Carson was a renown marine biologist and her pivotal 1962 book Silent Spring addressed the dangers of chemicals and pesticides like DDT. She's credited with sparking the contemporary environmental movement. These women inspired Lawlor while growing up and through school, leading her to the Arboretum and driving her to excel. Our thanks go out to Lawlor and her colleagues on Earth Day—and every day—for keeping the Arboretum healthy, green and glorious!