Greenhills Bakery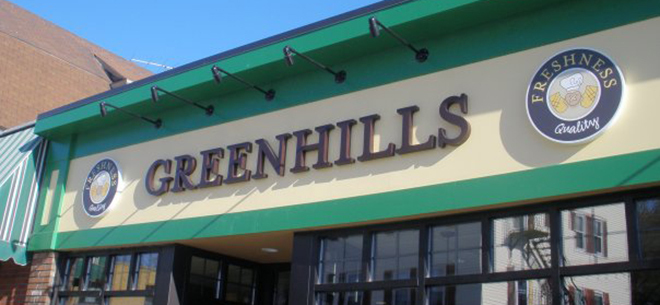 courtesy of Greenhills Bakery
Celebrate small businesses this St. Patrick's Day with Dorchester's Greenhills Bakery
March 17 is St. Patrick's Day, and a safe way to celebrate is to treat yourself to, well, treats! Greenhills Bakery in Dorchester is offering scones, Irish soda bread and more. Panorama had the pleasure of speaking with Cindy Quinn, co-owner of the bakery alongside her husband Dermott, about what makes their small business so unique.
I know that either you or your husband came from Offaly in Ireland. What brought you folks to Boston? That was my husband, and he went to Connor School in Galway and then worked for a little while in Switzerland, and then came to the United States. He had a lot of family friends and I think two brothers here at the time.
And what do you and your husband love about Boston and Dorchester, and why did you choose to open your bakery in that particular area? Basically because [Boston] is so welcoming to the Irish. And then, when we were looking for a place to open, the spot right next door to the Erie Pub, which is, I don't know how long they've been open, probably 50 years, became available in Adams Village. It's just a really nice neighborhood. It's very Irish but it's very integrated as well, and [there are] a lot of young families. Great atmosphere—just a little old-fashioned area with an Irish pub and it was the perfect spot!
And what has the support from the community been like, especially during COVID? It's really, really supportive, very supportive. We just closed down for two weeks. We were very steadfast to stay open for St. Patrick's Day last year, so we kind of closed it a little bit after a lot of other businesses did. And then, we did reopen. It was very slow. We opened limited hours, but you know the people that did come in are so grateful that we were there. Some people would just order things to bring to the police department, or to hospitals because that way they're making people happy and supporting us. And I think, on the flip side, we were the one normal thing. People could go out and get their morning coffee and scone or have little special things that would brighten their day, so I think it worked out great for everybody.
We're glad to hear that! So, with that being said, what are your most popular products? Definitely our Irish bread and our scones and our Irish soda bread with raisins. And we also do a soda bread that's whole wheat. We use bran flakes and whole wheat flour. So, it's really hearty and it's really like the staple with any Irish breakfast. So yeah, we always made that from day one. People will drive up from Cape Cod or down from New Hampshire to get those certain things because you really can't find them anywhere else. But we also are like a regular café where we do coffee and tea and muffins and any other breakfast items. We have sandwiches and soup and chocolate chip cookies, birthday cakes and regular stuff that families want.
Well, that sounds delicious! Does Greenhill's have any particular specials around St. Patrick's Day, other than soda bread? Yeah, we do! Right now, we are making a trifecta cupcake, which is a specially made Guinness chocolate cupcake cake. And then we put in a dark chocolate whiskey ganache filling and top it off with Bailey's frosting. So, trifecta meaning with three; Guinness, whiskey and Bailey's are in it.
Wow! That's amazing! Yeah, it's kind of a seasonal thing. And then we also have a lot of green things. You know, green cookies and green cupcakes, and we always have a special decorated cookie depending on the season. So, we have a cutout shamrock shortbread cookie that is decorated that's flying out of here! And we also make porter cakes, which are like a light fruit cake that has Guinness in the recipe—that is very, very traditional. And we also have whiskey cakes which are a coffee cake with coffee and ground walnuts and whiskey and then it's doused with a whiskey butter syrup.
Do you have a particular philosophy when baking? Mine has always been to bake stuff that I grew up making and having in the house all the time. And people get so busy that they're not able to do it [bake]. How many times a year do you sit down and peel apples and make your own apple pie? And we make apple pies! We get our apples from a local orchard and we make rhubarb pies which are probably the most popular pie in Ireland. I try to think of stuff that you would make yourself, but you just don't have time. That evokes the memories of growing up. And I forgot to say that we're doing corned beef and cabbage every day until St. Patrick's Day!
What does St. Patrick's Day mean to you and your husband? Well, it has a lot of different meanings. Sometimes it's exhaustion when I think of it because you work so hard and it's very busy and you try to keep everyone happy. So, we usually end up exhausted, but it's also really fun because you see so many different people that come in the bakery. And you know, that's part of the wonderful things about having a small business is the people you get to know and see and learn their stories. And also, the meaning of St. Patrick's Day—St. Patrick, the saint of Ireland that brings attention to the country and its history, and the good things associated with it.
And what is, if you're willing to share, the secret to Granny Murphy's brown bread recipe? And could you talk a little bit about her? Oh sure, she was Dermott's grandmother—and he's one of 12. So, she came up to their house every day and would make bread and help his mom with the 12 kids. And even when I first met him, he went on a trip to Ireland and came back with this loaf of bread that was about 14 inches round—I'd never seen something so huge. It was wrapped so well in his suitcase and just the smell of it! She had baked it in an old wood-burning oven, so it had this really unique smell. Unfortunately, we can't do that, but it was so good. This was 32 years ago but I had never tried a bread like that and I said, "You have to teach me how to make it," and he showed me, but it was still kind of hard—the ingredients in the flour are a little bit different here so you have to tweak the leavenings and play with the ingredients a little bit to get it as good. So we kind of did that back and forth and perfected it. And of course, you see the big wheat flakes in it, so you feel like you're eating something really healthy. It's just one of those breads that fills you up. You can have a half a slice in the morning before or until noon.
What makes your soda bread stand out? It's a little more of a biscuit because it's not a yeast bread. So, it's a little more dense. But it has a simple, nice flavor. Of course, the buttermilk gives it a nice, kind of, I don't know if I want to call it tartness, but there's a nice play off of the flavor. And it's not too sweet…so it can go with a lot of nice things. The best way to have it is with some butter and jam.
Grab your brown bread, soda bread, or sweet treats at Greenhills for St. Patrick's Day—and any day! 780 Adams St., Dorchester, 617-825-8187. https://sites.google.com/view/greenhillsbakery/home