The Swan Boats are Back!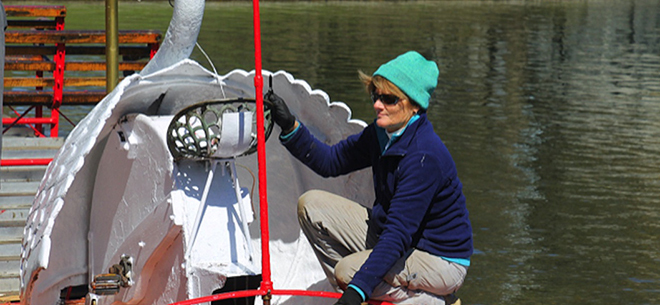 Photo: courtesy of Lyn Paget
The Swan Boats are a springtime tradition, and have graced the pond in the Boston Public Garden since 1877. After a year's long hibernation of sorts—and the first year the boats have ever been forcibly closed—company president Lyn Paget shared that they're making their return on Saturday, May 8. The Swan Boats have long been an overarching symbol of spring, in all its hope and glory, for the city. And the word "hope" is certainly on people's minds when they think of the return of the Swan Boats, according to Paget. "I think a lot of people are looking for any small signs of normalcy."
The Swan Boats date back to the 1870s. Paget's great grandparents had a business of rowboats in the Boston Public Garden. Robert and Julia Paget had permission from the city to rent these boats for 30–60 minutes. At the time, paddle wheel boats on rivers and other bodies of water were becoming increasingly common. Simultaneously, bicycles were making their way from Europe to the United States. Robert Paget had a friend who was a crucial factor in bringing bicycles into the country and later founded Columbia Bikes. It was a combination of these factors that led to the original design of the paddle wheel boat. Paget said the secret for the boats to stay afloat was to have them drift at a higher level of water.
The idea of the famous swan-shaped boat came from Julia and Robert's love for the opera Lohengrin, a story of a soldier who rescues a princess trapped in a castle. The soldier had to cross a body of water and does so via boat pulled by a swan. The design for the Swan Boats, therefore, makes it look as if the passengers are also being pulled by these elegant birds. After Robert's passing in 1878, Julia essentially ran the operation. Lyn Paget credits the strong women in her family for keeping the business going. "I have these ancestral, generational role models of women who were involved in this business, aunts and so forth, who have really made a difference in the ways I think about and approach things." She is part of the fifth generation of the family business.
The mask mandate remains in place when riding the Swan Boats this year. Parties are also required to ride the boats together with additional spacing allowed for others. Paget remarked that participating in outdoor activities adds to the sense of hope this spring season. She's also excited for the Red Sox and plans to enjoy the Boston Common and Esplanade.