High 5: Classic Boston, Spring Edition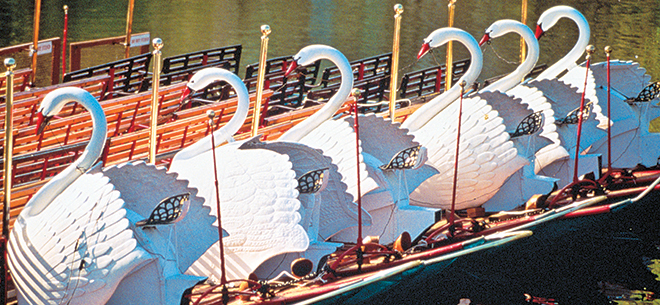 courtesy of Greater Boston Convention & Visitors Bureau
Get out and enjoy these timeless attractions this spring
Swan Boats (pictured): The revered tradition continues after a one-year break beginning May 8. These pedal-powered boats have been delighting visitors to the Boston Public Garden Lagoon since they debuted in 1877, and all for a low cost.
Ye Olde Union Oyster House: The oldest continually operating restaurant in the country, established in 1826, endures to serve fresh-shucked oysters, broiled Boston scrod, boiled lobster, clam chowder and fried clams to the masses. And you can even dine outdoors, right alongside the Freedom Trail.
The Freedom Trail: Speaking of which, this 2.5-mile pathway linking 16 of Boston's most historic sites remains the perfect idea for a springtime excursion. Some spots, like the U.S.S. Constitution and Old South Meeting House, are still closed to the public, yet beloved landmarks like the Old North Church and Paul Revere House are welcoming visitors inside their doors on a limited basis, with proper safety protocols in place.
Isabella Stewart Gardner Museum: Look past the sensationalism surrounding the now-31-year-old mystery surrounding the infamous art heist (thank you, Netflix!) and you'll find one of the most delightful museum experiences around. The structure—opened to the public in 1903 and patterned after a Venetian palazzo—boasts an unparalleled collection of art and artifacts collected by its namesake, as well as a newer, modern wing highlighting live performances (currently on hold) and contemporary art. And did I mention the stunning garden courtyard packed with spring blossoms?
Emerald Necklace: A Fenway neighbor to the Gardner Museum, this pioneering linear park system designed by Frederick Law Olmsted in the late 19th century offers a relaxing respite to the hustle and bustle of the city. While many virtual programs are offered through the Emerald Necklace Conservancy and individual parks like the beloved Arnold Arboretum, simply strolling amongst the trees, streams, ponds and blossoms that inhabit the Necklace may be the best way to enjoy it.