Fall Film Festivals Roundup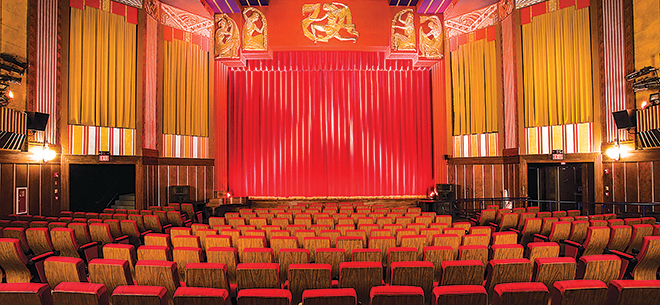 Photo: Eric Scott Photography
Despite the current times, spending time indoors as the air begins to cool is only natural. And one of the best ways to do so remains the pleasure of enjoying great films in a community setting (safely, of course, by following each venue's COVID-19 protocols). While online streaming is still an option, many upcoming film festivals are finally offering patrons the opportunity to savor some cutting-edge cinema in the best possible setting—a darkened theater among fellow film aficionados. This fall, several film fests and other celebrations of cinema are available all over the Boston area, starting with the Boston Film Festival, which hosts virtual screenings beginning September 23 of several shorts, features and documentaries via the Eventive streaming platform. Next up is the Boston Latino International Film Festival September 24–October 3, an all-online affair that screens nine new films, including a documentary about iconic entertainer Rita Moreno and Los Hermanos/The Brothers, the poignant true story of two Cuban musician brothers—one living in Havana, one in New York—who are reunited after decades years apart. Speaking of documentaries, another annual film tradition in these parts is the 7th annual GlobeDocs Film Festival, which arrives October 13–17 to tell more than 20 real-life tales followed by discussions with filmmakers and experts from the staff of The Boston Globe. Both virtual and in-person programming at the Brattle and Coolidge Corner theatres is planned, and films include docs on pioneering oceanographer Jacques-Yves Cousteau and groundbreaking tennis legend Arthur Ashe. ArtsEmerson hosts the Boston Asian American Film Festival on its website October 20–24, featuring 10 feature length films that include both live and recorded Q&As with filmmakers. October 22 is Filipino Friday, with screenings of all three Filipino works that are part of the festivities available for a special price. Five short films are also presented.
The approach of Halloween is certainly prime time for horror fans, who can get their fill of terror-inducing movies in October from several sources both IRL and virtual. Nightstream—an online collaboration between several horror and genre film festivals across the country, including Boston Underground Film Festival (BUFF), that was inaugurated last fall—returns October 7–13. BUFF is also hosting an in-person showing of Brian DePalma's cult classic Phantom of the Paradise at the Coolidge Corner Theatre (pictured) at midnight on October 1, which is introduced by documentarian and Phantom devotee Ari Kahan. The Coolidge continues the eerie vibes with its annual double feature presented outdoors on the grounds of the Medfield State Hospital, which this year showcases the classics Night of the Living Dead and The Texas Chainsaw Massacre on October 15 & 16. Another Coolidge tradition is its 20th Halloween Horror Marathon, which takes place for more than 12 hours beginning October 30 at 11 p.m. when a short concert by Halloween II and They Live composer Alan Howarth takes place to kick things off.
The film festivities continue into November, when the 33rd annual Boston Jewish Film Festival bows online from November 7–21. Short films, features and documentaries from around the world—and even the local debut of a popular Israeli television series—are presented, include a special in-person screening of Space Torah at the Museum of Science hosted by NASA astronaut Dr. Jeff Hoffman on November 11.