High 5: Things to Look Forward to in 2022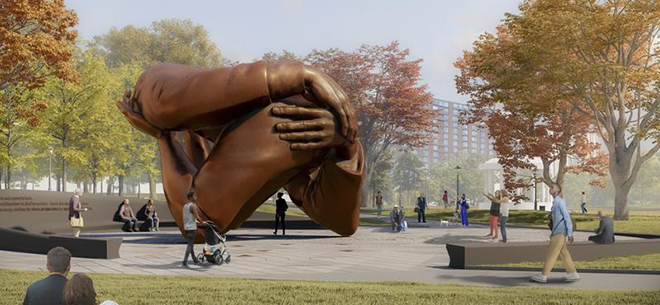 Hank Willis Thomas/MASS Design Group
From live music to new dining, the New Year has a lot in store
The Embrace (pictured): Set to be one of largest monuments dedicated to racial equality in the country, this 20-foot bronze sculpture is a tribute to late Civil Rights leader Dr. Martin Luther King, Jr. and his wife Coretta Scott King, who met in Boston while they were both students. Positioned on historic Boston Common near the Parkman Bandstand not far from where the American icon led a rally and march in 1965, the piece is based on a photo of the Kings clasping each other when MLK won the Nobel Peace Prize in 1964. No exact date for the dedication of the sculpture is confirmed, yet it appears the long-anticipated project from the organization King Boston is finally nearing a conclusion in the new year.
High Street Place: The long-delayed food hall in Downtown Boston is scheduled to make its debut in March. Many of the city's best chefs and restaurateurs are represented, including Tiffani Faison, who offers three new dining and imbibing experiences: Dive Bar, a raw bar/seafood concept mixing New England and Gulf of Mexico traditions; Tenderoni's, a throwback pizza and grinder joint; and Bubble Bath, a champagne and wine bar featuring gourmet hot dogs and popcorn. Expect cuisine ranging from Mexican to sushi, as well as a satellite location for Newburyport Brewing Co. on the North Shore.
Roadrunner: Named after the iconic Modern Lovers song, this new music venue is opening at the Boston Landing development in Brighton. At 50,000 square feet and boasting a capacity of 3,500, Roadrunner is welcoming some of the biggest touring acts around starting this spring. Shows on the docket currently include Boston's own beloved Dropkick Murphys (March 20), the Grammy Award-nominated Olivia Rodrigo (May 3) and Beach House (July 22).
The Alice: An Immersive Cocktail Experience: The innovative, 90-minute adult extravaganza based on Alice in Wonderland comes to the Hub after successful pop-ups in Australia and across the United States. Taking place locally at The Merchant in the Financial District from February 17–March 31, The Alice dazzles with eye-popping décor based on The Mad Hatter, Cheshire Cat and more, while offering opportunities to create your own boozy concoctions, play croquet with flamingoes and indulge in an "Eat Me" cake while solving riddles along the way.
The Frozen Four: The NCAA Men's Ice Hockey Championship finals, AKA "The Frozen Four," come to the TD Garden, with the semifinals taking place on April 7 and the finals on April 9. Boston has long been a hotbed of hockey, and hosts some of the best college programs in the country, so don't be surprised if there's some local representation in this year's tourney. After all, the defending champs are the Amherst, Mass.-based University of Massachusetts Minutemen, whose home base lies less than two hours west of the Hub.