Outdoor Skating in the Hub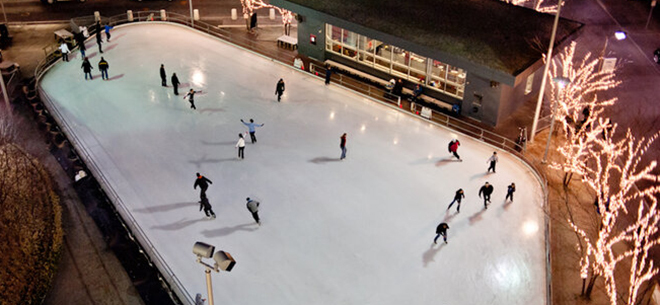 Enjoy a beloved winter tradition at one of these al fresco hot spots around town
Whether you're the wobbly, newborn deer-type skater or you're ready for the upcoming Winter Olympics, it's still great fun to strap on the blades and take a spin around the ice in the great outdoors during the Boston area's colder months. If you're local pond isn't quite ready, though, fear not—there's plenty of high-quality ice sheets that are ready to go, offering everything from skate rentals to snack bars for your convenience.
The granddaddy of all Hub ice sheets is the beloved Boston Common Frog Pond Skating Rink. A fixture at the country's oldest public park since 1996, the Frog Pond offers rentals, skate sharpening, lockers and lessons under the guidance of the venerable Skating Club of Boston. After skating, savor hot cocoa, pepperoni pizza, grilled cheese and more at the Frog Pond Café. One of the city's newer outdoor spots is The Rink at 401 Park (pictured on cover) in the Fenway. Inaugurated in 2019, this recreational area between Time Out Market and the Fenway's Trillium Brewing outpost has recently added the Après Skate Bar. Operated by Time Out Market, this stopover dishes out artisanal soft pretzels and gourmet Belgian waffles from Eastern Standard Provision Co. along with hot cocktails and cold beer. Other amenities include Ice Flow Yoga on Sundays, lessons from The Skating Club of Boston starting January 8 and broomball—picture a cross between curling and hockey and you'll be in the ballpark—beginning January 17.
Head across the Charles River to Cambridge's Kendall Square and you'll find Skate @ Canal District Kendall (pictured above), an ice sheet not far from the heart of the MIT campus that offers skating lessons and rentals along with the usual chilly frivolity. Over to the west in Brookline, beautiful Larz Anderson Park hosts the Jack Kirrane Ice Rink, a popular spot that is home to public skating along with drop-in hockey for adults three days a week and skating lessons on weekends from Bay State Skating School. For even more local flavor, head off the beaten path to the Department of Conservation & Recreation-operated Kelly Outdoor Rink in Boston's eclectic Jamaica Plain neighborhood, which boasts cheap skate rentals and public skating seven days a week.