High 5: Boston by Water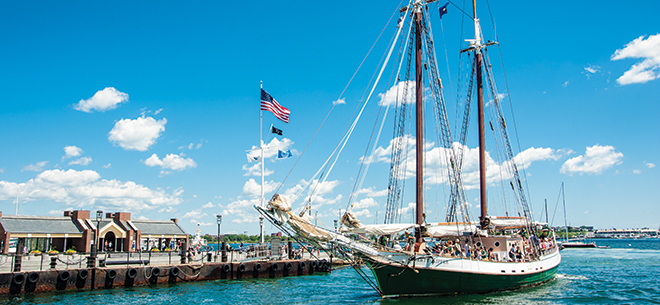 Photo: Kindra Clineff/Mass. Office of Travel & Tourism
From cruises to kayaks, here are the best ways to explore Boston Harbor and the Charles River
Liberty Fleet of Tall Ships (pictured): Get a taste of what the seafarers of yore experienced by hopping on board one of two historically accurate schooners, which offer Boston Harbor cruises from Central Wharf right next to the beloved New England Aquarium. Enjoy a day sail, sunset cruise, or a specialty excursion like the monthly history sails with Boston By Foot and the Saturday night "Cocktails, Rum & City Lights" adventures.
Boston Harbor City Cruises: The usual sightseeing, dining and sunset excursions—as well as Independence Day weekend outings similar to the ones above—are available from this perennial favorite that embarks from Long Wharf, along with whale watching sponsored by the New England Aquarium and ferries to the Boston Harbor Islands. For the daring, the 70-foot speedboat Codzilla provides thrilling, super-charged rides at 40 mph that feature 360-degree spins and hairpin turns, all to an upbeat soundtrack.
Massachusetts Bay Lines: Departing from picturesque Rowes Wharf, the daily excursions of this longtime operator include multilingual, sunset and moonlight cruises. There are even occasional dog-friendly outings and full moon cruises.
Charles Riverboat Company: Take a cruise along the serene Charles River with this Cambridge-based specialist that runs sightseeing cruises seven days a week through October 2. The "Cocktail & Sunset" cruise is also available every day through September 4, and features a full bar. And don't overlook the two-hour architecture cruises done in conjunction with the non-profits Boston By Foot and the Boston Society for Architecture that highlight the city's many man-made wonders along Boston Harbor and the Charles River.
Charles River Canoe and Kayak: Looking for a self-propelled way to take in the sights? Then this company with outposts up and down the Charles and Mystic rivers is for you. Guided tours can be booked covering either the scenic Charles River or historic Boston Harbor, both of which depart from Cambridge's Kendall Square. Custom tours are also available, as well as lessons and rentals of kayaks, canoes and stand-up paddleboards for those that want to explore independently.