Gatherings on the Greenway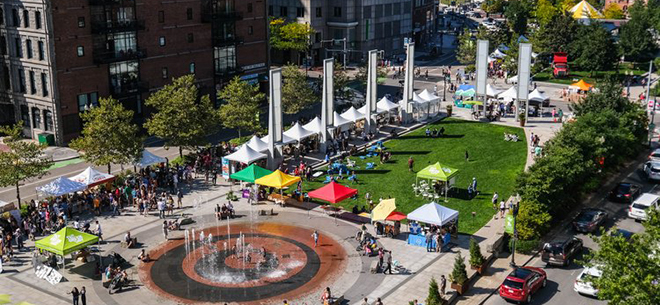 The Hub's centrally located Rose Kennedy Greenway has become the perfect spot for a diverse array of fun gatherings over the years, so it's no surprise that two very different—yet no less exciting—showcases are coming to the beautiful urban oasis this September. First up is the Boston Local Food Festival (pictured) on September 18 from 11 a.m.–5 p.m. The giant farmers market is the largest single-day event of its kind in New England, and this year's edition is its 11th anniversary. A free extravaganza organized by the Sustainable Business Network of Greater Boston, this celebration of healthy comestibles from area farmers and fishermen features plenty of food samples, kids activities in the Family Fun Zone and your favorite chefs battling for supremacy in the Seafood Throwdown.
After you're done feeding your body on Sunday, come back September 19 from 4–8 p.m. to nourish your soul at the Greater Boston Arts Expo. A preview of what's in store for the 2022–2023 season at dozens local arts organizations, this free convocation of dance, theater, visual arts, opera, classical music and more is highlighted by a variety of live acts entertaining the crowds on the main stage provided by Boston Dance Alliance and The Wandering Stage, as well as pop-up performances, family activities and interactive games. For refueling, Trillium Brewing's Garden on the Greenway remains open, accompanied by food trucks from some of the most acclaimed vendors in the city. If that's not enough extra incentive to stick around, there are also ticket discounts and giveaways available throughout this event that is sure to help bring renewed life to the Hub's thriving arts scene.