High 5: Fall Film Festivals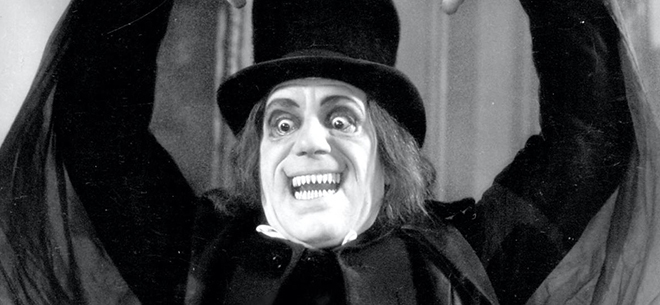 Get your cinema on at these silver screen showcases
IFFBoston Fall Focus 2022: The Independent Film Festival Boston, held every year in the spring, brings this offshoot to Harvard Square's The Brattle October 27–30, where film fans can feast their eyes on advance screenings of the season's buzziest up-and-coming features.
Halloween Horror Marathon: The venerable non-profit Coolidge Corner Theatre hosts its 21st horror movie extravaganza beginning at 11:59 p.m. on October 29. This year's 13-hour endurance test is vampire-themed and kicks off with the 1927 silent masterpiece London After Midnight (pictured), complete with a live score from pianist Jeff Rapsis and followed by a costume contest. Celebrating Halloween early? Then head down to the grounds of the Medfield State Hospital, where the Coolidge hosts double features of spooky classics from October 21–23.
Boston Jewish Film Festival: A staple for more than three decades, the BJFF hits local screens November 2–13, with additional virtual offerings available November 10–13. Venues such as the Coolidge Corner Theatre, West Newton Cinema and the Museum of Fine Arts host both fiction and documentary films from more than a dozen countries that highlight Jewish themes and issues, including opening night film Karaoke, an award-winning Israeli production about a semi-retired couple whose lives are turned upside down by a new neighbor, and the centerpiece film Remember This, a biopic about Polish World War II hero and Holocaust witness Jan Karski that stars David Strathairn.
Boston International Kids Film Festival: Watertown's Mosesian Center for the Arts hosts this 10th annual celebration of films by, for and about kids that takes place November 18–20. Enjoy dozens of short films and family-friendly features from around the world, from animation and live action to fiction and documentary. Workshops and panel discussions are also part of the fun.
Wicked Queer: The Hub's LGBTQ+ film showcase returns November 18–21, hosting an all-documentary mini-fest at the Brattle and the Museum of Fine Arts (MFA) to supplement its larger, 38th annual event from this past spring. This first annual happening presents seven features, including the centerpiece doc A Run for More on November 19 at the MFA that is accompanied by an appearance from director Ray Whitehouse and producer Andre Perez, who are on hand to discuss their work about a transgender woman running for a city council seat in Texas.