High 5: Things to Look Forward to in 2023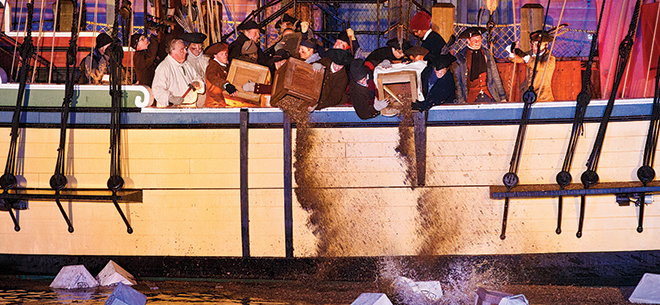 Photo: Michael Blanchard
Clear your calendar for these fun events and openings coming in the new year
250th Anniversary of the Boston Tea Party (pictured): This year-long commemoration leads up to the semiquincentennial celebration of one of the most significant events leading up to the American Revolution. Prior to the big bash/re-enactment on historic Boston Harbor on December 16, 2023, a host of local organizations are combining to mark this momentous occasion, beginning with Follow the Cod—the 225th anniversary of the procession of the Sacred Cod from the Old State House to the "new" State House—on January 11.
Beauty and the Beast Cocktail Experience: From January 12–March 30, indulge in a bit of fantasy at this visually stunning imbibing opportunity for the 21+ crowd based on the classic Jeanne-Marie Leprince de Beaumont fairytale. Downtown's The Merchant Kitchen & Drinks is transformed for a 90-minute excursion into an enchanted world filled with elaborate sets and costumes, riddles to solve, treats to eat and adult beverages to both create and consume.
Boston Wine Expo: After a hiatus of several years, the much-beloved showcase for all things vino returns March 25 & 26, this time to the Boston Park Plaza hotel's Grand Ballroom. Enjoy vintages from more than 100 winemakers from across the globe, as well as seminars, classes, A VIP tasting experience and more.
A Sanctuary Café: After approval from the Beacon Hill Civic Association Zoning Board of Appeals in early December, Boston's only cat café,—pending a further go-ahead from the Boston Licensing Board—is slated to open at 80 Charles St. in spring of 2023, boasting a multi-level space with a bookstore and café that serves pastries, tea and coffee drinks and features 10 resident felines with which patrons can book hour-long intervals to hang out.
Eastern Standard: The late, lamented restaurant and craft cocktail destination, a pandemic casualty, is set to return to the Fenway in the new year, along with several other ventures from restaurateur Garrett Harker and bar maven Jackson Cannon. A new development on Beacon Street, not far from the Kenmore Square location where the original Eastern Standard once stood, is set to host a new iteration of the popular drinking and dining hot spot, along with the cocktail-focused Equal Measure and two other ventures.