High 5: Celebrating Lunar New Year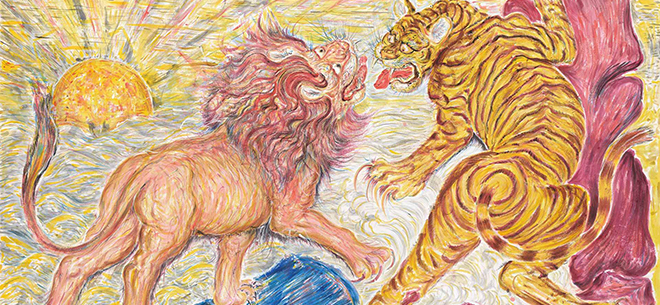 Wu Junyong, Lion and Tiger Contending for Hegemony (detail), 2017
Asian culture comes alive at these marquee events marking the Year of the Rabbit
Royale Saturday Lunar New Year: Just a few steps from the Hub's Chinatown neighborhood, the Theatre District nightclub presents its usual Saturday night dance party on January 21 beginning at 10 p.m. with an Asian twist, highlighted by a headlining set by DJ Tao with support from Attack and Phvnatic, who all play dance and Top 40 favorites into the wee hours.
Chinese New Year Parade: On January 29 from 10 a.m.–3 p.m., Chinatown hosts this yearly bash throughout its streets, most of which are closed to car traffic. In addition to the Lion Dance Parade, expect music, dance, martial arts demonstrations, firecrackers, food and a Culture Village at 90 Tyler St. that offers insight on the origins of the Chinese zodiac, Chinese calligraphy and other arts and crafts activities.
Lunar New Year Cultural Village: On the same day as the above event, head to the outskirts of Chinatown to the China Trade Center at 2 Boylston St. from 11 a.m.–3 p.m. for a range of fun happenings for the kids, including calligraphy, origami, lantern making and a special lion dance.
Lunar New Year Celebration: More fun in Chinatown for the little ones is on hand January 29 from 11 a.m.–3 p.m. at the Pao Arts Center at 99 Albany St. Experience interactive activities like Chinese red envelope folding, Korean calligraphy, Korean dasik cookie stamping on clay, and rabbit-themed crafts. There are also three lion dance demonstration sessions at 11:30 a.m. and 1 & 2 p.m. While you're there, check out the exhibit Under the Oak Tree—a showcase of work by students at the Boston Chinatown Neighborhood Center's Red Oak Program aimed at providing children ages 5–13 with arts and literacy education—on view through February 25.
Lunar New Year at the Museum of Fine Arts: Taking place February 2 from 5–10 p.m., this annual tradition includes kung fu and lion dance demonstrations, dance and music from Korean and Vietnamese traditions, and gallery talks in conjunction with the new exhibit Otherworldly Realms of Wu Junyoung (pictured)—as well as a painting performance by the Chinese-born artist of the title—all for a $5 admission.