Root for the Home Team
Skaters represent Boston at the Prudential U.S. Figure Skating Championships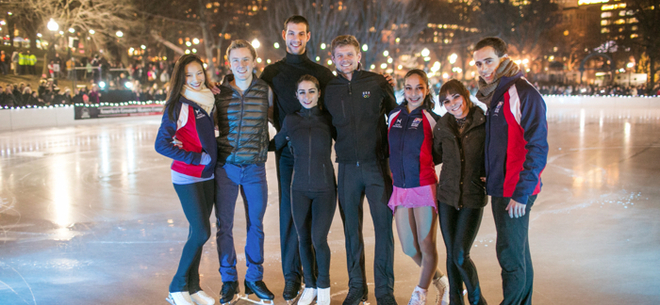 With its iced-over cranberry bogs, ponds and public rinks, Massachusetts is a haven for ice skaters in the wintertime. It's no wonder, then, that Boston has played host to the most prestigious annual figure skating event in America going on six times.
The
U.S. Figure Skating Championships
returns to the city for the first time since 2001, celebrating its 100th anniversary this year. Hosted by The Skating Club of Boston, the Championships are the final qualifying competition before the selection of the 2014 U.S. Olympic figure skating team. That means the Hub will see an influx of America's most talented figure skaters who'll be battling for the title of U.S. Champion.
Skaters from all over the country spent the holidays in Boston training for the event, though a number of competitors boast the home team advantage. Fans have high hopes for Marissa Castelli and Simon Shnapir, who won the gold medal at the 2013 U.S. Championships. Castelli, born in Rhode Island, now lives in Boston, while Shnapir moved to Massachusetts from Moscow when he was just a baby.
Other skaters repping Boston at Nationals include 17-year-old Yasmin Siraj, who was raised in Brookline and has trained at The Skating Club of Boston her entire career. Brother-sister team Maia and Alex Shibutani have strong Boston ties; Alex was born here, and they've visited often over the years. Ohio native Christina Gao, a Harvard freshman, began training at The Skating Club of Boston last fall.
Ross Miner moved from Vermont to Boston to skate at The Skating Club of Boston when he was 13. Now 21, he boasts two U.S. medals and the bronze medal from the 2012 Four Continents Championships. Wakefield's Stephen Carriere, a past bronze medal winner, is competing in the senior division along with locally based pairs team Gretchen Donlan and Andrew Speroff. And lastly, Alexandria Shaughnessy and Jimmy Morgan, students at Northeastern and Boston universities, respectively, grew up skating around New England (read more about them
here
).
Root for the home team and all your other favorite figure skaters at the U.S. Figure Skating Championships January 5–12 at the TD Garden and the Boston Convention & Exhibition Center. And the next time you're skating at a local rink, you know who to keep an eye out for.