Beyond Boston: Foxwoods Resort Casino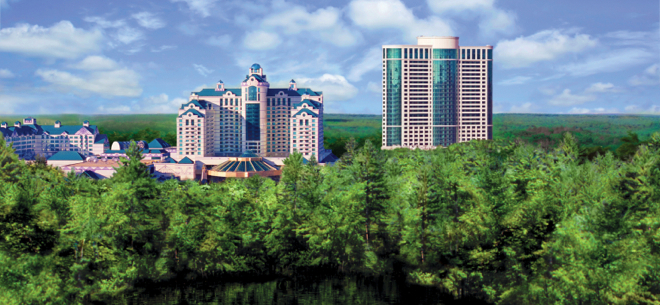 The world tends to get pretty woodsy midway between Boston and New York. Yet somewhere in the lake-filled region of southeastern Connecticut is a little place called Foxwoods.
OK, maybe little isn't the right word, considering that Foxwoods is the largest resort casino in North America — and in fact, one of the largest in the world. Rising abruptly from its rural surroundings, the sprawling complex includes six casinos, four hotels, two spas, entertainment venues and restaurants for every appetite.
We booked a room at the AAA Four Diamond Fox Tower (formerly known as the MGM Grand), located at one end of the complex. Our clean and comfortable 27th floor suite boasted a sweeping view of thousands of acres of unspoiled forest (and, just off in the distance, rival casino Mohegan Sun). Watching hawks soar through the air several stories below, we looked down at the giant pool on the ground level and imagined wild summer pool parties (celebrity guests have apparently included TV personality Kendra Wilkinson).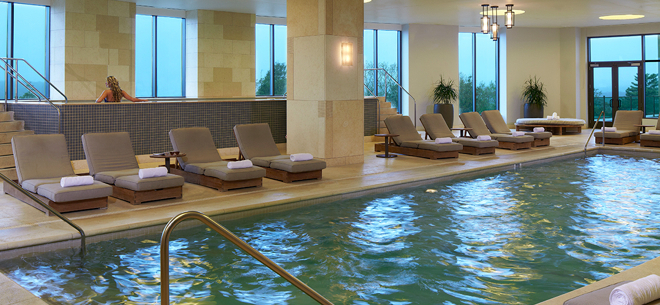 We wiled away the first few hours of our visit at the G Spa, indulging in relaxing massages — the Thai table and "Splurge" — before lounging by the indoor pool wearing fluffy white robes and slippers. Open only to guests 21 and up — and spa patrons, unless you buy a day pass — the pool and oversized whirlpool were both surprisingly serene.
Fully recharged, we headed to the room for a quick change and then back down to explore the extensive grounds. Between the countless shops, restaurants and gaming tables, it was sensory overload in the best way. Distracted by people-watching — and maybe a bit of Blackjack — we didn't even make it to the other side of the complex before our dinner reservation.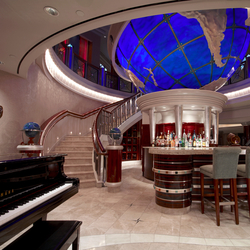 Pro tip: Base your dinner destination on your luck at the tables. On a not-so-fortunate day, you might want to stick with something affordable from the food court. After compiling a few chips, we settled on Paragon, an upscale restaurant located at the top of the Grand Pequot Tower. With live piano tinkling in the background, we supped on raw local oysters and expertly prepared steak. Try to time your visit with the sunset to really enjoy the view — otherwise, all you'll see is pitch black.
Foxwoods is run by the Mashantucket Pequot Tribal Nation, which established one of America's oldest reservations in 1666. Visitors are encouraged to visit the nearby Mashantucket Pequot Museum & Research Center to learn more about the tribe's history, and there are even hiking trails surrounding the property — not something you'll find at most casinos.
Find out more about Foxwoods by visiting
foxwoods.com
.