A Peek at the Past: Harvard Stadium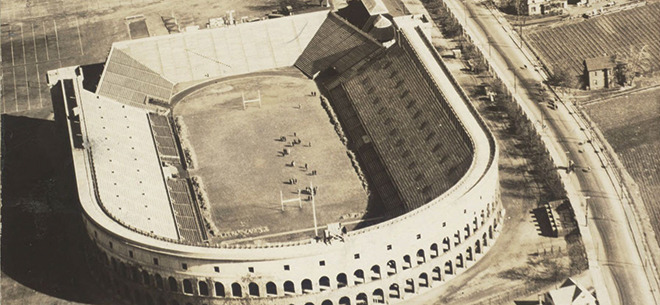 Photo: Harvard Stadium, 1915/Harvard University Archives
With the expansion of the Boston Calling music festival this spring and its move from City Hall Plaza to the much larger Harvard Athletic Complex in the Hub's Allston neighborhood, now is the perfect time to take a closer look at this little-known corner of the renowned university's expansive Boston campus. Consisting of fields for everything from rugby to soccer, as well as tennis courts and buildings for swimming, hockey, indoor track and administrative offices, this area located along a bend on the Boston side of the Charles River is very familiar to student athletes, coaches and fans of the Crimson's many teams, yet practically invisible to Boston visitors and residents. One of the signature landmarks of the school's sports facilities is venerable Harvard Stadium, home to, among other things, Harvard's football team and, every other year, the much-ballyhooed Harvard-Yale football game referred to simply as "The Game" in Ivy League circles.
Built in 1903, Harvard Stadium has the distinction of being the oldest stadium in the country. It was also the first large-scale reinforced concrete structure in the world, as well as the first large, permanent arena for college athletics in the U.S. Its open-ended horseshoe shape was inspired by the sporting edifices of ancient Greece and Rome. A gift from the class of 1879 that cost $310,000 to erect, the 30,323-seat-capacity Harvard Stadium made its debut November 14, 1903 in a football game between the Crimson and fellow Ivy League school Dartmouth. In 1906, Harvard Stadium was even the cause of a major innovation in the game of football. When a rules change was proposed to widen playing surfaces to make the sport safer, the forward pass was adopted instead since it would have been impossible to widen the field at this fixed headquarters for Harvard athletics.
Boston Calling isn't the first live music event to take place in the area. Harvard Stadium once hosted concerts by Bob Marley as well as the final show performed by Janis Joplin. Other sports have also been played there, including lacrosse (both the Harvard men's and women's teams currently use it, along with men's professional lacrosse team the Boston Cannons), Olympic soccer (in 1984), track and field, rugby and even ice hockey. The then-Boston Patriots of National Football League fame even played a season at the stadium in 1970—the first season after the AFL-NFL merger—while they awaited the completion of Schaefer Stadium in Foxborough, Mass. One of only three stadiums in the country to have been designated a National Historic Landmark (in 1987), Harvard Stadium has nevertheless been the subject of many improvements and updates over the years, assuring its use well into the 21st century.