A Peek at the Past: Everett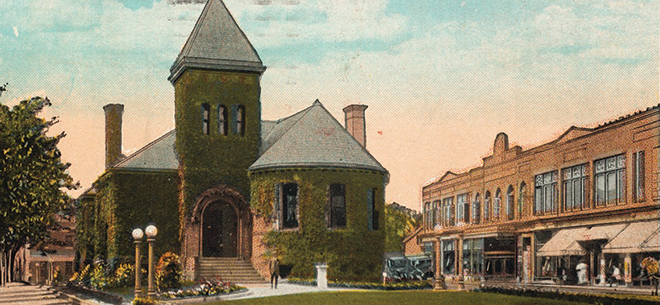 Parlin Memorial Library courtesy Methuen Historic Collection
With the Encore Boston Harbor resort, the area's first casino, set to make its debut June 23, now is an ideal time to look back at the history of Everett, the suburban city just north of the Hub that plays host to this glittering new entertainment destination.
The territory that now forms Everett was initially part of Charlestown, which, when settled in 1629, included all or part of present-day Woburn, Melrose, Malden, Stoneham, Winchester, Somerville, Cambridge, Burlington and Arlington along with Everett. When Malden became a separate entity in 1649, both present-day Melrose and Everett fell within its confines. During the American Revolution, critical bulwarks were constructed and manned here, helping confine British troops within Boston until driven out in 1776.
It wasn't until 1870 that the southern district of Malden became the town of Everett, which was named after Edward Everett (1794–1865), a revered statesman who had served as Harvard President, congressman, governor and minister to Britain. In an unfortunate claim to fame, the skilled orator gave a lengthy key address at the dedication of the cemetery at Gettysburg during the Civil War, the words of which have been largely forgotten due to the fame of the speech that followed—Abraham Lincoln's immortal "Gettysburg Address." In that era, Everett was largely an agricultural community, a status that would soon change, as a surge in population growth led to the municipality's incorporation as a city in 1892.
Industrial growth in the early 20th century eventually eclipsed Everett's rural character, with many businesses, from a chemical company to a power plant, either establishing themselves or expanding during this period, particularly along the Mystic River waterfront to the south. Other notable distinctions include Everett's status as the last city in America to have a bicameral legislature (a seven-person Board of Aldermen and an 18-member Common Council), which it abandoned in favor of a singular City Council in 2011. Famed Everett natives include actress Ellen Pompeo of "Grey's Anatomy" and current University of Notre Dame head football coach Brian Kelly.
Today, in addition to Encore Boston Harbor, Everett is home to a growing brewery scene led by the popular Night Shift Brewing, Down the Road Beer Co., Bone Up Brewing and the soon-to-open BearMoose Brewing; the craft distillery Short Path; and the venerable Teddie Peanut Butter, a New England favorite that was founded in 1924.