10 Top Insider Spots in the North End
Home to famed historic sites, Italian restaurants and pastry shops, the North End also hosts these lesser-known gems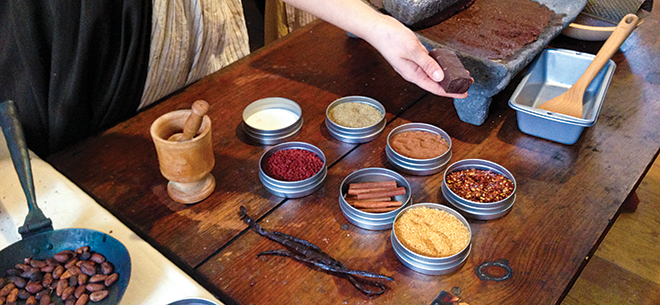 Captain Jackson's Historic Chocolate Shop
Get a glimpse of how confections were made in the colonial days, as well as taste a few examples, at this educational site where costumed interpreters give you the true flavor of the past.
Clough House, 21 Unity St., 617-523-6676, oldnorth.com/captainjacksons
St. Stephen's Church
The former New North Church, the only existing church in Boston designed by Charles Bulfinch,was also the baptism site of Rose Fitzgerald, JFK's mother, in 1890.
24 Clark St., 617-742-4715, socstjames.com
Sacred Heart Church
Constructed in 1833 and originally the Seamen's Bethel, a house of worship for sailors, this edifice was once frequented by Herman Melville of Moby Dick fame.
12 North Square, 617-523-5638, saintleonardchurchboston.org
Ward 8
One of the few non-Italian eateries in the neighborhood, Ward 8 has carved out a niche as a go-to destination for craft cocktails and gourmet American comfort food.
90 N. Washington St., 617-823-4478, ward8.com
The Skinny House
Located on Copp's Hill, Boston's narrowest house—which nevertheless sold for $900,000 in 2017—boasts a 10-foot width as well as a history as a "spite house" that was allegedly built in the late 19th century to block the view of an adjacent house belonging to the builder's brother, who had unevenly divided an inheritance.
44 Hull St.
Maria's Pastry Shop
Skip the lines on Hanover Street in favor of fresh-filled cannoli at this award-winning bakery.
46 Cross St., 617-523-1196, mariaspastry.com
Parziale's Bakery
Savor fresh bread and pastry at this spot claiming it first introduced pizza to the region in 1907.
80 Prince St., 617-523-6368, parzialebakery.com
Bova's Bakery
Open 24/7, Bova's offers an eye-popping variety of baked goods, both Italian and American.
134 Salem St., 617-523-5601, bovabakeryboston.net
St. Leonard's Peace Garden
This tranquil oases, part of the church that is the headquarters of the local parish that includes St. Stephen's and Sacred Heart, is located just off the hustle and bustle of Hanover Street.
320 Hanover St., 617-523-2110, saintleonardchurchboston.org
Lulu's Sweet Shoppe
This old-fashioned American bakery specializes in gourmet cupcakes and cookies, as well as its own homemade ice cream, and even sells vintage candy.
28 Parmenter St., 617-742-0070, lulussweetshoppeboston.com