A Peek at the Past: Christian Science Plaza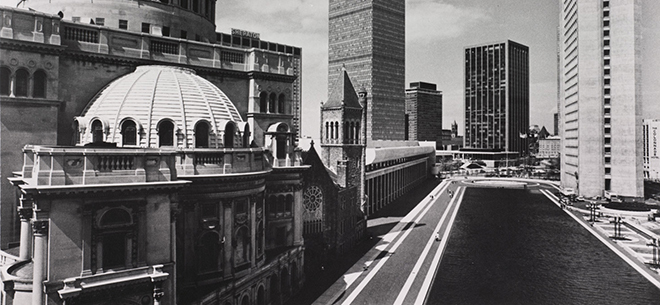 Photo: C. 1975–76, courtesy of Boston Public Library
While officially unveiled in the 1970s, the expansive Christian Science Plaza in Boston's Fenway neighborhood has origins that date back to the late 19th century. Consisting of several buildings and a grand open space that form the headquarters of the Church of Christ, Scientist, this still-evolving area continues to welcome visitors from all over the world.
The Church, founded by New Hampshire native Mary Baker Eddy in 1879 and based on the teachings in her 1875 book Science and Health with Key to the Scriptures, initially established its presence in Boston with the opening of the first Christian Science reading room in 1888, which was followed by the completion of the Romanesque-style Mother Church in the city's Fenway neighborhood in 1894. The burgeoning plaza's footprint was expanded in 1906 when the monumental, Byzantine-style Church Extension opened its doors right next to the growing religion's original house of worship.
Although Eddy passed away in 1910, the Church's campus continued its growth, adding such buildings as the one housing The Christian Science Publishing Society—now home to the Mary Baker Eddy Library and its landmark Mapparium—from 1932–34. Nearly four decades later, the plaza we know today began to take shape with an expansion plan that included a 28-story administration edifice, a 525-foot-long colonnade, a popular spray fountain and a massive reflecting pool, all designed with the help of I.M. Pei & Partners.
An extensive, multi-year renovation and reconstruction of the Christian Science Plaza is currently underway, including a now-rebuilt reflecting pool. See the progress for yourself at the 14th annual Opening Our Doors Festival on October 14, a Fenway-wide arts celebration centered around the plaza that begins at 10 a.m., offering a parade, live music and dance performances, all for free.