Boston Accent: Fine Fenway Fare
Didier Souillat, CEO of Time Out Market Boston, reflects on why Boston is the perfect site for creative, casual fine dining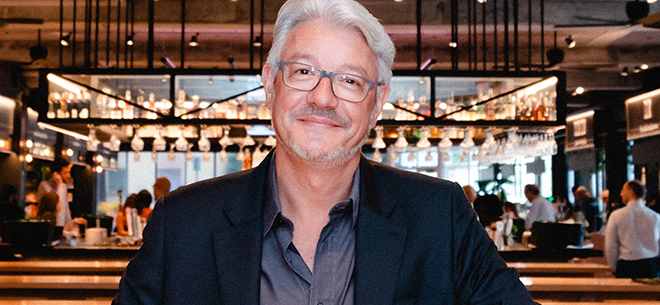 Photo: Arévalo Photography
For more than 50 years, the Time Out brand has helped arts and culture lovers "go out better" through its blog showcasing events and nightlife, restaurants, bars and more in 315 cities around the world. Time Out has now created a hub for casual fine dining right here in Boston's own Fenway neighborhood.
Time Out Market Boston CEO Didier Souillat says, "Boston is a city where the food scene has been steadily evolving and the restaurant scene is very supportive of young local chefs, as are we."
Time Out Market brings together 15 of Boston's finest eateries curated by local Time Out editors who know the city best. With more than 100 dishes, the market has something for everyone, making it a perfect destination for "those evenings when one friend wants to go for pizza, another for burgers or fine dining, and one for something vegan." You can order from several restaurants to craft your own perfect multi-course meal, stop by one of the bars for a craft cocktail, then bring your array to the communal tables to eat alongside new and old friends. "People who don't know each other have a conversation—often started by a chat about the food that is right in front of them: 'Where did you get that? I want it!' is commonly overheard at our markets."
Visitors to Time Out Market can discover more than just artisanal food, although there's plenty of that. The market also contains a video installation wall showcasing illustrations from local artists, Time Out articles and historic images of the neighborhood. As Souillat states, "It's a great inspiration to explore the city and be up-to-date on everything that is happening locally."
After visiting Time Out Market, Souillat suggests a whole smorgasbord of fun in the Fenway area. "Close to the market you can find Fenway Park where you not only get to see baseball but also big-name concerts and other sporting events. The Museum of Fine Arts is close by with more than 500,000 objects and also the Isabella Stewart Gardner Museum which looks like a Venetian palace. The Back Bay Fens is not far away—a lovely park which is worth exploring."
Time Out Market promises food, culture and, most of all, surprise. No two visits tothe market are the same, from the food you'll try to the people you'll meet.
Time Out Market Boston
401 Park Dr., 978-393-8088, timeoutmarket.com/boston