High 5: Macabre Sites
Scare yourself silly at these spine-tingling locales this Halloween season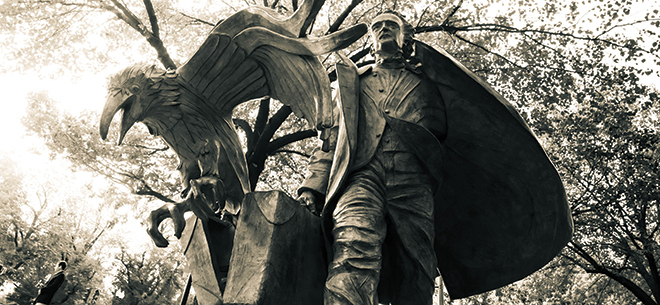 Photo: Heather Martin
Edgar Allan Poe statue (Edgar Allan Poe Square, corner of Boylston and Charles streets, pictured): The original master of the macabre and a Boston native, Poe is commemorated with the bronze sculpture entitled Poe Returning to Boston near the spot where he was born.
King's Chapel: Located on the Freedom Trail, this 1754 house of worship offers visitors a look at its crypts, which contain the remains of dozens of early Bostonians, as part of the Bell & Bones Tour.
The Ether Dome: A free historic site at the world-renown medical center, the Ether Dome is not only the location of the first successful surgery using anesthetic in 1846, but also home to an Egyptian mummy and a human skeleton.
Boston Athenæum: While not eerie in and of itself, this beautiful and historic private library does display the biography of infamous 19th century highwayman James Allen—bound, according to the criminal's last wishes, in leather prepared from his own skin.
Fort independence (Castle Island, 2010 William J. Day Blvd., 857-250-7755, castleisland8.com): Edgar Allan Poe, stationed here as a young soldier, allegedly drew inspiration for the classic chiller "The Cask of Amontillado" from a likely mythical incident he heard about while on duty at this site.