High 5: Holiday Strolls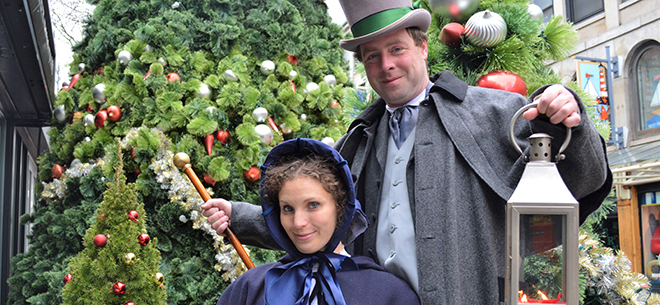 Take in lights, decorations and more on one of these seasonal jaunts
Historic Holiday Stroll: Dapperly dressed in Dickensian costumes, the renowned Freedom Trail Players (pictured) lead these 60-minute explorations of the famed Freedom Trail's revolutionary sites and the lights and Christmas trees along the way through December 31 on select Friday and Saturdays—as well as December 22—at 3:30 p.m.
Boston Landing Holiday Stroll: Taking place in Brighton on December 3 from 11 a.m.–3 p.m., this day of cheer encompasses shopping and dining specials and giveaways, live music at several locations, roaming carolers, a Harpoon beer tasting at Broken Records Beer Hall and pictures with Santa at the Boston Bruins' practice facility, Warrior Ice Arena. There's even scavenger bingo for those that stop by the Winter Lounge in the apartment complex Lantera, where there's free treats, a raffle and prizes for the first 25 to complete their cards.
South End Holiday Stroll: On December 3 from 10 a.m.–7p.m. and December 4 from noon–5 p.m., businesses throughout the dynamic South End participate in this yuletide happening, which includes special pop-ups, hot chocolate and hot cider, a wreath and tree sale in Blackstone Square on Saturday until 2 p.m. that includes a visit from Santa, and a Saturday petting zoo and organ concert at Holy Cross Cathedral, as well as live music on Washington Street next to Boston Chops courtesy of Wally's Cafe Jazz Club. Come back December 7 from 4–7 p.m. for a night of shopping and dining at select retailers and restaurants.
Ice Sculpture Stroll: Somerville's Assembly Square hosts this winter wonderland, where visitors can follow a special map to find nine fun, frozen creations that dot the property at Assembly Row. Enjoy this free event December 8 from 6–8 p.m.
Union Square Holiday Stroll: Return to Somerville on December 10 from noon–6 p.m. for this all-day affair, which sees the neighborhood go all-out for a storefront decoration contest. There are also fun spots for "Elfie Selfies" on the Festivus Trail, which can be submitted to @unionsquarems or @somernova (#loveunionsquare) to win cash prizes while raising money for charity. More than a dozen events and special offers can also be found, including Boynton Yards Winter Fest featuring live music and a holiday market, a jazz concert from 4–4:45 p.m. at Play Union, and fire pits and festive holiday lights at Bow Market.