High 5: Holiday Strolls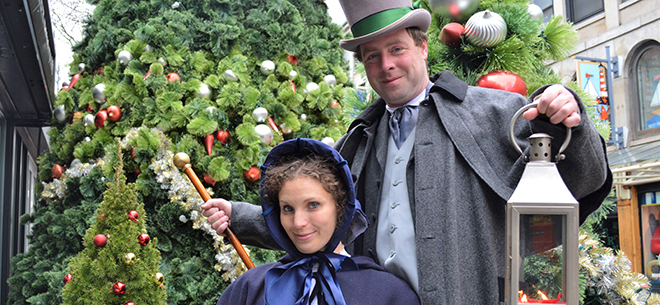 Take in lights, decorations and more on one of these seasonal jaunts
Historic Holiday Stroll: Dapperly dressed in Dickensian costumes, the renowned Freedom Trail Players (pictured) lead these 60-minute explorations of the famed Freedom Trail's revolutionary sites and the lights and Christmas trees along the way through December 31 on select Friday and Saturdays—as well as December 22—at 3:30 p.m.
Ice Sculpture Stroll: Somerville's Assembly Square hosts this winter wonderland, where visitors can follow a special map to find nine fun, frozen creations that dot the property at Assembly Row. Enjoy this free event December 8 from 6–8 p.m.
Union Square Holiday Stroll: Return to Somerville on December 10 from noon–6 p.m. for this all-day affair, which sees the neighborhood go all-out for a storefront decoration contest. There are also fun spots for "Elfie Selfies" on the Festivus Trail, which can be submitted to @unionsquarems or @somernova (#loveunionsquare) to win cash prizes while raising money for charity. More than a dozen events and special offers can also be found, including Boynton Yards Winter Fest featuring live music and a holiday market, a jazz concert from 4–4:45 p.m. at Play Union, and fire pits and festive holiday lights at Bow Market.
Prudential Center Holiday Stroll: On December 10 from 2–4 p.m., the Back Bay shopping center kicks holiday mode into high gear with an afternoon boasting shopping, treats and roaming musicians throughout the mall's cozy confines. Those who collect stamps at all participating stores earn a chance to win a prize pack worth $1,000. How's that for an early Christmas present?
Holiday Poetry Stroll: A self-guided excursion through Harvard Square sponsored by the Harvard Square Business Association, Mass Poetry and the Longfellow House-Washington's Headquarters National Historic Site that can be experienced December 10–January 1, this inspiring route stops at several prominent locales where short works by local poets—including youth poet Justice JI Brooks, whose "Cataclysm of Snowfall" graces Brattle Plaza near the annual charitable Giving Tree—are on display.