Dropkick Murphys prep for Saint Pat's spectacular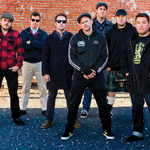 Boston can always count on a few things happening in March: A massive St. Patrick's Day parade in Southie, an excess of green-clad revelers in local pubs, and a handful of sell-out shows from the Dropkick Murphys.

The Boston-bred Irish punk band is scheduled to play six shows at the House of Blues and Lansdowne Pub as part of their annual St. Patrick's Day Tour, something lead singer and bass player Ken Casey says the band looks forward to all year. "There's something special about Boston in the sense that we probably personally know half the room when we play, so it's a different kind of connection," he says. "A lot of those people have been supporting us since the days when we were starting out at the Rat." Don't be surprised if you see Casey's daughter step-dancing onstage or his 90-year-old grandmother clapping in the crowd.

Dropkick Murphys have become unofficial ambassadors for Boston. "We've always kind of flown the flag for the city," Casey says. "We can be as far away as Australia and people are showing up in Bruins and Red Sox gear."
Speaking of the Red Sox, Casey's still reeling from playing the National Anthem at Game 6 of the World Series last summer. "That'll never be old news for us," he says, laughing. "I remember when I was a kid, I was like, 'Oh I want to be on the field out there when they win the World Series.' Of course, at that point in time the vision would have been with a security guard chasing me."
The band also lent their good-luck-charm music to Marty Walsh during his campaign for mayor, changing the lyrics of "Shipping Up to Boston" to show their support. "It's pretty amazing when one of your good friends becomes the mayor," Casey says. "I didn't exactly have an open-door policy with the last mayor, so to be sitting up in Marty's office, drinking coffee, looking out the window, and talking about stuff, it's a pretty cool experience."
While Marty may or may not be in the audience at the Dropkick Murphys' upcoming shows, you can expect a rollicking performance. "It's impossible, with how enthusiastic our fans are, to ever not be 100 percent up for a show," Casey says. "I don't care if you have the flu; walking on the stage when you hear that first note and you see the crowds' faces, for an hour and a half you're cured of anything."
If you go: March 13–16 at 7 p.m., March 15 at 2 p.m. at House of Blues, 15 Lansdowne St., 888-693-BLUE.