Ask a Concierge: Nick MacDonald of Hotel Commonwealth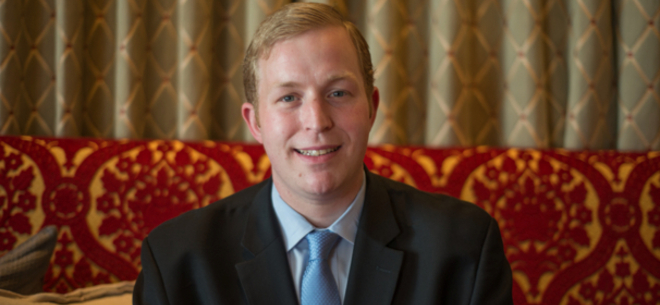 Photo by Samantha Murray
Not too long ago, Boston native Nick MacDonald was working at Dunkin' Donuts when he was discovered by Hotel Commonwealth's then-director of operations. Working on a hunch that MacDonald would be a natural in the hotel industry, he offered him a job—and the rest is history.
How long have you been working at the Hotel Commonwealth? This past Opening Day at Fenway Park (April 4th) marked my third anniversary working with Hotel Commonwealth. A few years ago I had the pleasure of meeting Shane McWeeny while I was working at Dunkin' Donuts in Hingham. He quickly became one of my favorite customers. He told me I would be perfect for the team at Hotel Commonwealth and brought me in for a bell attendant position. Since then, Hotel Commonwealth has been the perfect fit for me! In my role as a concierge, I'm able to interact even more with the guests and ensure they have the visit of a lifetime in Beantown.

What do you think sets your hotel apart from others in the city? Hotel Commonwealth's service is simply incredible. No matter who walks through the door, they will be treated as a VIP starting with their first "hello." All of my co-workers have genuine smiles and want to be here. It is safe to say everyone loves their job. This level of authenticity that marks our guest service just can't be faked and it shows throughout every level of staff.

Say a guest has only one day to explore the city. What's your advice? I would highly recommend taking a Trolley Tour. Guests will have the pleasure of seeing all of Boston's top attractions, from the Freedom Trail, USS Constitution Museum and Tea Party Ships & Museum, to the TD Garden and the rest of our incredible city!

What are some of the most common requests you get from guests? Have you had any strange or memorable requests over the years? Tickets to sporting events, car rentals, information on museums and directions are most common guest requests, which we can easily accommodate at Hotel Commonwealth. When I first started as a concierge, a couple approached me about their major issue with their visit to Boston: the convenience stores in the Kenmore Square area did not carry two-liter bottles of Diet Mountain Dew. As it was clear this was the one thing that would make their visit perfect, I hit the phones! After numerous calls I finally found the right Diet Mountain Dew bottles, to the delight of the couple. It may have been a small and slightly odd request but fulfilling it made their stay special—that's why we're here.

When you're not working, what do you like to do in Boston? I am a huge sports fan, so any time I have the chance to attend a game I will be there! Lucky for me Hotel Commonwealth is just around the corner from Fenway Park, home to our World Series Champs the Red Sox, and close to TD Garden where the Bruins and Celtics play.

And lastly, what's your favorite thing about this city? The pride we all have to live and work here is so unique to Boston. Especially during this time of year, as we're approaching the first anniversary of last year's Boston Marathon events, the strength and love Bostonians have for our city can be felt on every block.