Boston: A City of Firsts
Even prior to former Boston Mayor Tom Menino dubbing the South Boston waterfront the Innovation District, the Hub was a center of progressive ideas. Innovation has long been a part of the city's fabric dating back to its very beginnings. Here's just a small sampling of sites associated with some of the more prominent Boston firsts.
1.
Boston Public Garden
: America's first public botanical garden was instituted in 1837 adjacent to Boston Common, although many of the features with which we are familiar today didn't take shape until decades later.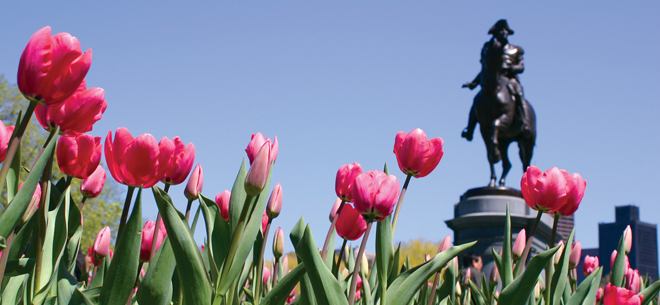 2. Original site of Boston Latin School: The site of the first public school in America—established in 1635—is commemorated by a plaque long the famed Freedom Trail. School Street.
3. Ether Dome: In 1846, William T.G. Morton performed the first public surgery using an anesthetic at Mass. General's surgical amphitheater. Open to the general public Monday–Friday from 9 a.m.–5 p.m., it houses a small collection of artifacts, as well as an Egyptian mummy. Massachusetts General Hospital, 55 Fruit St., Bulfinch Building, 4th Floor, 617-726-2000.
5.
Boston Common
: Delineated in 1634, Boston Common was America's first public park. It was established as a community grazing land for cattle, a practice which ceased in 1830.
6. Boylston Station: This stop on the MBTA's Green Line was the first subway station in the United States when it debuted in 1897. Historic trolley cars can be seen here on a defunct track parallel to the one in active use. Corner of Tremont and Boylston Streets.
7.
Boston Public Library
: The first free municipal library in the country when it was
created in 1848
, the Boston Public Library moved into its stately Copley Square location in 1895.
8. Cy Young Statue: The first Major League Baseball World Series—between eventual victors the Boston Red Sox (then the Americans) of the two-year-old American League and the Pittsburgh Pirates of the elder National League—was held here at the former site of the Huntington Avenue Grounds in 1903. A statue of legendary Boston hurler Cy Young stands in a Northeastern University quad to mark the spot of the pitcher's mound. Behind Northeastern University's Cabot Center, 400 Hungtington Ave.