Guide to Revolutionary Boston
Step back in time by visiting the Boston area sites most closely associated with the birth of the United States of America.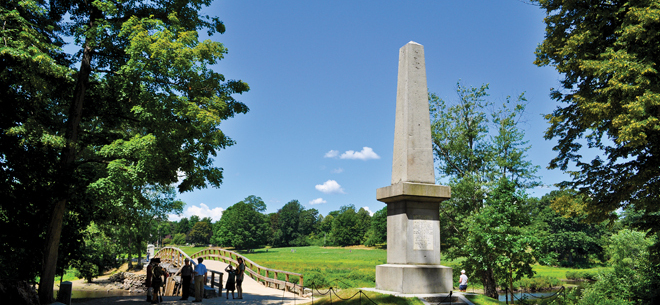 —Photo by Tim Grafft, Mass. Office of Travel & Tourism
The "shot heard round the world" was fired near the Old North Bridge (above) at the Battles of Lexington and Concord on April 19, 1775, and this 967-acre site sprawled across three towns 15 miles northwest of Boston preserves the fields on which this confrontation took place.
A key incident that inflamed colonists toward rebellion occurred here on March 5, 1770. As a jeering, unruly crowd hurled snowballs and rocks at unwelcome British soldiers, the redcoats opened fire, killing five people.
The steeple of this 1723 edifice served as a signal tower to messenger Paul Revere, warning him that British soldiers were departing to capture the minutemen's ammunition stockpile in Concord on the night of April 19, 1775.
This is where the Boston Tea Party began in 1773, when more than 5,000 colonists gathered here to listen to a speech by Samuel Adams that served as a signal to the Sons of Liberty to march to the waterfront and dump unfairly taxed tea into Boston Harbor.
5. Boston Tea Party Ships & Museum
Located on the Fort Point Channel near the original Griffin's Wharf site where the pivotal protest took place on December 16, 1773, this institution reenacts the infamous tea-toss on a daily basis to the delight of history aficionados young and old.
The monument on this hill in South Boston marks the spot where George Washington and the Continental Army placed 59 cannons to aim at the British troops below, eventually driving them out of the city on March 17, 1776.
The former home of poet Henry Wadsworth Longfellow, this 1759 Georgian mansion served as George Washington's headquarters during the Siege of Boston from July 1775–April 1776.
Both British and colonial troops mustered on America's first public park during the Revolutionary War. The starting point of the Freedom Trail, Boston Common is also home to the Central Burying Ground (above), where British soldiers are buried alongside participants of the Boston Tea Party and patriots during the Battle of Bunker Hill.
9. Faneuil Hall
This bustling marketplace, built in 1742 by wealthy merchant Peter Faneuil, also served as the location for fiery speeches by the likes of Samuel Adams—whose statue sits in the plaza out front—that inspired patriots to break from Great Britain.
Although the Battle of Bunker Hill on June 17, 1775 was a loss for the colonists, it exacted a steep toll on British troops. The granite obelisk to mark the site was completed 1843.