Music Man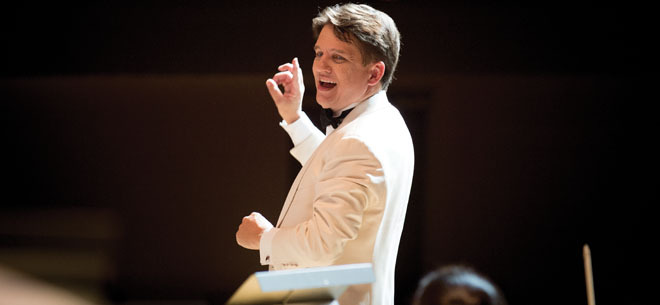 No list of beloved Boston institutions would be complete without "America's Orchestra," the Boston Pops. As conductor Keith Lockhart says, the best way to describe the Pops is to say that they are "for everyone." Of course, Lockhart himself has become a Boston institution with his instantly recognizable brand of enthusiasm for the variety of music that the Pops bring to the Hub.
It should come as no surprise that music was always "a huge part" of his life, yet according to Lockhart, "conducting as a profession didn't really occur to me until I was almost done with my undergraduate work, when I was in my 20s…I just didn't think that real people did that for a living!" Luckily for Boston, Lockhart's career has proven otherwise. Since 1995, he has lead the Pops in concert more than 1,500 times, including two decades of the enormously popular and nationally televised Boston Pops Fireworks Spectacular on the Esplanade every Independence Day. Lockhart even led the Pops at the pre-game show of Super Bowl XXXVI, when the New England Patriots won for the first time. "That was a very special
occasion," he remembers.
There is always something new to discover with the Boston Pops, and this spring season is no exception. "We've added a lot of great classic rock arrangements this year, [which] keeps us fresh and moving forward," explains Lockhart (Classic Rock from The Beatles to Led Zeppelin, May 10 and 11). These symphonic renditions of rock 'n' roll hits feature special guest Tom Scholz of the band Boston. On the other end of the spectrum, a first-time collaboration with the University of Connecticut's Puppet Arts Program includes an "amazingly visual" performance of Prokofiev's fairy tale, Peter and the Wolf, suitable for the entire family (Puppets Take the Pops, May 21 and 24).
"So many people think they know the Boston Pops because they watch us on the Fourth of July, or come to our Holiday Pops concerts, but…I would encourage people to come to Symphony Hall on a gorgeous May night and check us out," says Lockhart. "It's really the Boston Pops at its best."
Photo: Stu rosner