Cutting-Edge Cuisine
Café ArtScience executive chef Patrick Campbell reveals the art of balancing innovation and tradition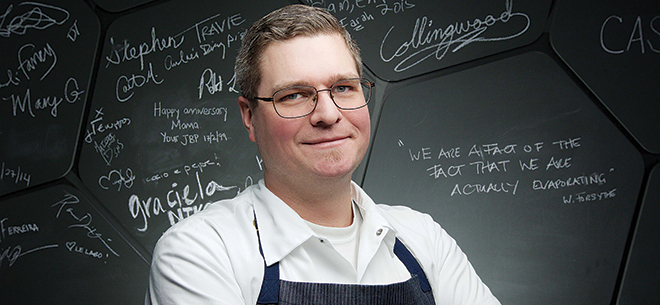 Photo: Wayne Chinnock
"Cooking was the only thing I ever wanted to do," says chef Patrick Campbell. Starting with the fast casual chain Boston Market when he was 14, Campbell has long been a part of the Boston restaurant scene, bringing his enthusiasm to such places as the upscale No. 9 Park in Beacon Hill and Eastern Standard, Kenmore Square's elegant brasserie. Since 2014, he has been across the Charles River in Cambridge, serving up classic dishes with unexpected twists at the edgy Café ArtScience on East Kendall Street.
Near the campus of the Massachusetts Institute of Technology, Café ArtScience is the gastronomically inventive brainchild of a team that includes La Laboratoire founder David Edwards and pioneering bartender Todd Maul. The modern interior is a bold space of black and white surfaces embellished with a honeycomb pattern that recalls certain molecular structures, a nod to Café ArtScience's experimental approach to dining. The overall ambiance is business-casual, but the ethos is cutting-edge. For something truly futuristic, look no further than the bar, which uses a centrifuge and serves inhalable cocktails—real clouds in a cup that are achieved through hydrodynamic cavitation with Edwards' invention, "Le Whaf."
While Campbell's dishes have a flair all their own, he claims to be Café ArtScience's voice of tradition, bringing balance to the menu. "It's all about updated classics." Updated is a good word to describe the menu, which is seasonal and continually changing. "Our kitchen is small and we are limited as to what we can do at a time, so we do change it up a lot," says Campbell. The transition of summer to fall is his favorite time to be cooking: "It's the best of both worlds!" One new dish that he is developing is roasted Gulf of Maine swordfish, likely to be served with heirloom tomatoes, grilled cucumber, shishito peppers, preserved lemon and harissa broth.
Whatever happens to grace the menu, Campbell urges Boston residents and visitors alike to taste some new flavors in a surprisingly relaxed atmosphere. "There's no stuffiness here," he explains. "That's a thing of restaurants past, and we've stripped that all away. The high-level mechanics of service and quality food are still here, but we are forward-looking, energetic and fun."