10 Top Spots for a Romantic Night Out
Looking for date ideas for Valentine's Day and beyond? Then check out these suggestions destined to bring you and your loved one closer.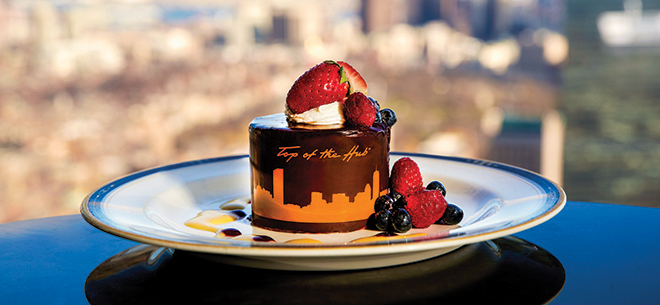 Top of the Hub
Now is the perfect time to indulge in one of Boston's top special occasion restaurants (pictured). Enjoy a menu of fine, New England-focused fare along with spectacular views of the Back Bay and beyond. For a nightcap, you can enjoy live music nightly in the lounge.
800 Boylston St., Prudential Center, 617-536-1775, topofthehub.net
The Hungry i
This romantic, French-accented mainstay in the Beacon Hill neighborhood has been offering fireside dining—on two levels, no less—since 1981. Marriage proposals are not uncommon here (hint, hint).
71½ Charles St., 617-227-3524, hungryiboston.com
Boston Center for Adult Education
Learn how to cook, try a wine and cheese tasting, make your own sushi, sip scotch or bourbon and more with your sweetheart at this Back Bay institution. There's even an off-site glass-blowing event planned for Valentine's Day.
122 Arlington St., 617-267-4430, bcae.org
Captain Jackson's Historic Chocolate Shop
Not only can you pick up history-inspired sweets at this site next to the Old North Church every Saturday this February, but you can also experience the process that went into making chocolate in the Colonial era.
The Clough House, 21 Unity St., 617-858-8231, oldnorth.com/captainjacksons
Legal Sea Foods
Oysters have long been fabled as a romantic aid, and there's no better place to savor them than at one of this legendary local restaurant's many locations, including the flagship Legal Harborside in the Seaport District, featuring a first-floor oyster bar as well as a more formal dining room on the second floor.
270 Northern Ave., Liberty Wharf, 617-477-2900, legalseafoods.com
Harvard Museum of Natural History
The only thing better than getting real flowers for your sweetie is sharing with her the astounding beauty of this museum's world-renowned collection of more than 4,000 glass flower models.
26 Oxford St., 617-495-3045, Cambridge, hmnh.harvard.edu
The Fireplace
A roaring fireplace (naturally) and seasonal New England cuisine have been the main attractions since this eatery debuted in 2001. And you can feel good about dining here in more ways than one—The Fireplace is a certified "green" restaurant.
1634 Beacon St., Brookline, 617-975-1900, fireplacerest.com
Kings
The original Back Bay outpost of this growing games-and-dining empire is perfect for a fun date with your significant other, whether you're looking for a meal and cocktails, an exciting round of 10-pin, or both.
50 Dalton St., 617-266-2695, kingsbowlamerica.com
Charles Street
Exuding quintessential Bostonian charm, this quaint thoroughfare, known as the "Flat of the Hill," forms the commercial heart of the Hub's Beacon Hill district. Stroll its picturesque sidewalks to find nearly a dozen antique shops, as well as unique boutiques and cozy, intimate restaurants serving everything from Persian to Italian to French cuisine.
Between Beacon and Cambridge streets
Isabella Stewart Gardner Museum
Gaze upon the tropical beauty of this venerable museum's garden courtyard with your loved one and feel your heart warming along with your body.
25 Evans Way, 617-566-1401, gardnermuseum.org