Boston Accent: Inn Season
Dig Inn founder and CEO Adam Eskin brings farm-to-table dining to the masses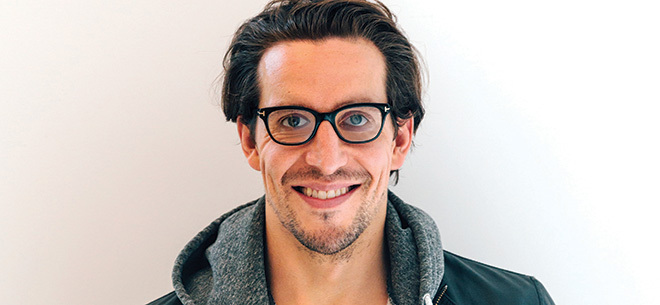 Adam Eskin wants Bostonians to "dig in" and truly enjoy their dining experience. His first Dig Inn restaurants were founded in New York, where they're popular among those wanting to combine fast and affordable fare with seasonal ingredients from farmers local to the region. Three Dig Inn locations are now operating in Boston—including a new one at the Prudential Center that opened in mid-October. "It's a dream come true for me to take my business from its hometown of New York and bring it to mine," explains Eskin, who was raised on Massachusetts' South Shore.
Eskin's confident that hungry locals and visitors will love the Dig Inn experience in Boston. First of all, home-cooked and hearty flavors sourced from 50 farms across the Northeast—like Square Deal Farm in Hardwick, Vermont or Local Bushel in Hadley, Mass.—dominate each menu. "As we head into winter, especially in New England, people start looking for a warm meal.…Our chefs love providing that." Each chef has autonomy to manage his or her location's menu independently, cooking up unique specials with the regional ingredients that the Dig Inn team sources. As Brussels sprouts, squash and sweet potatoes roll in from the late-fall harvest, chefs are preparing to wow their diners. "Fall is the season we enjoy most," says Eskin, adding that he's currently sourcing turkeys for Dig Inn chefs' Thanksgiving specials.
Like the menu, the layout of each location celebrates food at its heart. "Our restaurants are different sizes and configurations, but they all have an open kitchen, with prep spaces, griddles and everything on display," says Eskin. "Through design, we really showcase the art of active cooking, enabling our guests to connect with the process.
"For me, with my active lifestyle, this way of eating—genuinely good food choices and a celebration of the farm and kitchen—has been important to me since high school," Eskin continues. "The world has been moving in a farm-to-table direction in fine-dining for a while.…Dig Inn takes those values and makes them accessible and convenient for everyone."
Dig Inn
557 Boylston St., 617-904-3711; Prudential Center, 800 Boylston St., 617-276-1001; 277 Washington St., 617-276-1000; diginn.com