Boston Accent: Flour Power
Chef Joanne Chang joins forces with a host of local eateries in support of the Greater Boston Food Bank's Super Hunger Brunch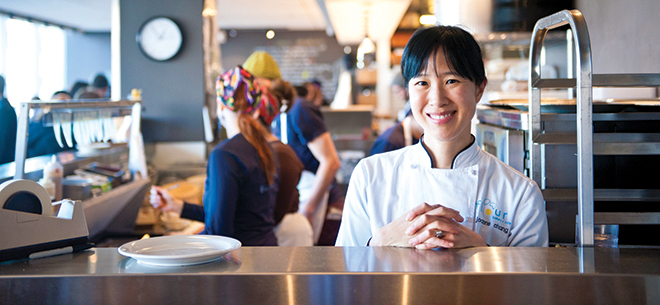 As a recent Harvard graduate in the early 1990s, Joanne Chang was working as a management consultant when she realized that, if she were to win the lottery, she'd choose to spend all her time in a kitchen. Almost immediately, Chang decided to trade her cubicle for a kitchen knife and was soon "julienning scallions and making chicken stocks" as a "low-man-on-the-totem-pole" at Biba, run by renowned Chef Lydia Shire. Eventually, Chef Chang focused on pastry, growing her baking skills at restaurants in Boston and New York before opening Flour, her bakery and café, in 2000.
"Even when I left to work in NYC, I knew that I wanted to return to Boston and open up something of my own here," says Chef Chang." Today, Flour has seven locations across Boston and Cambridge, where highlights include both savory sandwiches and exceptional desserts: sticky buns, scones, cakes and fruit tarts. Chang and her husband Christopher Myers also co-own Myers + Chang, a "totally fun and wonderful" South End diner that serves Chinese, Thai, Vietnamese and Taiwanese specialties that are "punchy and full of flavor," like Chang's favorite, the pan-roasted, soy-glazed salmon.
Chef Chang's passion for cooking and Boston doesn't end there. She is a culinary committee member for the Greater Boston Food Bank's Super Hunger Brunch, a citywide fundraiser on the weekend of January 27 & 28. During the fundraiser, the sale of special items on participating restaurants' brunch menus benefits the food bank. This year, Flour donates the proceeds from its breakfast cookie/coffee combo sold at all locations. "This event is a unique opportunity to try out special offerings from some of your favorite restaurants while supporting the amazing efforts of the Greater Boston Food Bank," Chef Chang says. "It's a win/win!"
Another win/win is how Chef Chang approaches satisfaction in her kitchens. At Flour, she ensures that "everyone is dedicated to making our guests happy with excellent food and wonderful service," and that her staff is "always focused on making sure we are having a great time." With such good food and good vibes in abundance, a sweet treat is definitely the best way to begin the New Year.
Super Hunger Brunch
January 27 & 28. Visit gbfb.org/get-involved/events/signature-events/super-hunger-brunch for a list of participating restaurants.