High 5: Fenway Sports Bars
Game day or any day, these sports-centric watering holes are fan favorites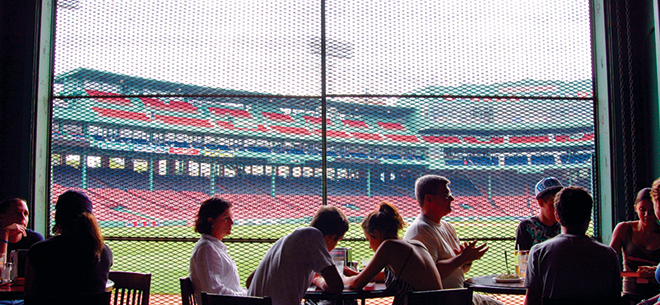 Photo: Stephanie Savas
Cask 'n Flagon (62 Brookline Ave., 617-536-4840, casknflagon.com): A fixture since 1969, this bustling hub for Sox fans boasts an expansive patio and a perch right behind Fenway Park's fabled Green Monster.
Game On! (82 Lansdowne St., 617-351-7001, gameonboston.com): Lots of large-screen, HD televisions for catching all the game action? Check. Outstanding pub food, including coal-fired artisan pizza from Max & Leo's? Done. Ping pong, corn hole and even a batting cage? Looks like all your bases are covered.
The Bleacher Bar (82A Lansdowne St., 617-351-7001, bleacherbarboston.com, pictured): Literally located underneath the bleachers of Fenway Park, this unique tavern features a view of the stadium's iconic outfield year-round.
Tony C's Sports Bar & Grill (1265 Boylston St., 617-236-7369, tonycssportsbar.com): Named in honor of bygone Sox outfielder and Bay State native Tony Conigliaro, this state-of-the-art sports bar offers gigantic screens with killer audio alongside a menu of classic American comfort fare.
The Baseball Tavern (1270 Boylston St., 617-867-6526, baseballtavern.com): The Baseball Tavern has lived and breathed all things Red Sox since 1963, with four floors of fun for fans of all stripes, including a roof deck sporting a miniature replica of the Green Monster's scoreboard.