10 Top Spots for Exploring Revolutionary Boston
Celebrate the U.S.A. at these sites associated with the American Revolution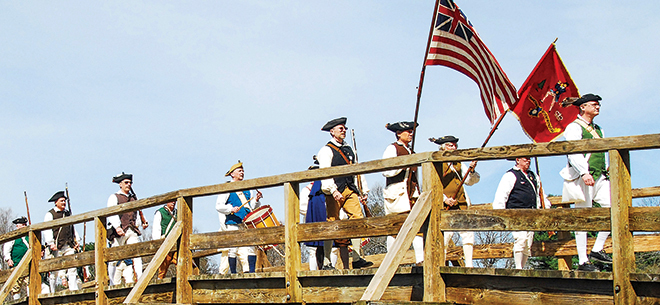 Photo: Mass. Office of Travel & Tourism
Minute Man National Historical Park
The location of the first skirmishes with the Redcoats on April 19, 1775, known formally at the Battles of Lexington and Concord, are preserved at this expansive 900-plus-acre area just to the west of Boston.
North Bridge Visitor Center: 174 Liberty St., Concord; Minute Man Visitor Center: Rte. 2A, Lexington; 978-369-6993, nps.gov/mima
Old State House
Some say the revolution truly began outside the walls of this former seat of the colonial government on March 5, 1770, the date of the infamous Boston Massacre.
206 Washington St., 617-720-1713, bostonhistory.org
Old North Church
Also known as Christ Church, Boston's oldest house of worship served as a signal tower indicating the movements of British troops on the eve of the opening battle.
193 Salem St., 617-858-8231, oldnorth.com
Faneuil Hall
In the years leading up to open rebellion, fiery speeches decrying unfair taxation by the British authorities reverberated from the rafters of this meeting house and center of commerce.
Faneuil Hall Square, 617-242-5642, nps.gov/bost
Paul Revere House
The renowned silversmith, patriot and midnight rider resided along with his family at this North End domicile from 1770–1800. Built circa 1680, the historic edifice is the city's oldest surviving residence.
19 North Sq., 617-523-2338, paulreverehouse.org
Old South Meeting House
This former church is famed for hosting the gathering that precipitated the Boston Tea Party.
310 Washington St., 617-482-6439, oldsouthmeetinghouse.org
Granary Burying Ground
Boston Massacre victims and revolutionaries Samuel Adams, Robert Treat Paine, James Otis and John Hancock are interred here.
95 Tremont St., 617-635-4505
Copp's Hill Burying Ground
British soldiers bombarded colonial troops from this site during the Battle of Bunker Hill.
45 Hull St., 617-635-4505
Bunker Hill Monument
Although the Battle of Bunker Hill on June 17, 1775 was lost by the rebels, this granite obelisk on Breed's Hill (don't ask) in Charlestown commemorates the tenacious fight put up by colonial forces, who exacted a heavy toll on superior British forces.
Monument Square, Charlestown, 617-242-5641, nps.gov/bost
Boston Tea Party Ships & Museum
Located on the Fort Point Channel near where the actual event took place on December 16, 1773, this tribute to the most pivotal protest leading up to the American Revolution offers daily reenactments of the quintessential act of dissent.
306 Congress St., 866-955-0667, bostonteapartyship.com