A Peek at the Past: North End Beach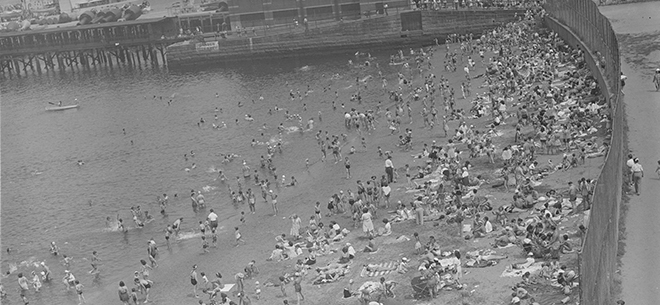 Photo: c. 1935, courtesy of the Boston Public Library, Leslie Jones Collection
Boston's North End has long been known as a stronghold of Italian culture and cuisine, especially in the summer when nearly every weekend sees thousands of visitors pack its narrow streets to attend one of its many religious festivals. One word not often associated with the neighborhood, however, is "beach." Believe it or not, this compact area once hosted just such a gathering spot that was a popular destination for residents during the sweltering days of the season.
In the late 19th and early 20th centuries, in the interest of promoting good health practices, there was a movement to create public bathhouses so the working poor living in nearby, often bathroom-less urban tenements could have a place to get clean. The famed L Street Bathhouse in South Boston was part of this effort. In the North End, a bathhouse with attached gymnasium was completed in 1910, yet a sandy, six-acre area on the congested, working waterfront known as the North End Beach—first opened in 1893—was the preferred option for bathing and exercise when the weather was right. This urban oasis, which had separate bathing areas for men and women, also included lockers, a playground and floating platforms just off the shoreline. The locale's other claim to fame during the height of the North End Beach era was the Great Molasses Flood of January 15, 1919, which occurred when a faulty tank near the waterfront burst on an unseasonably warm winter day, flooding the streets with sticky goo and killing 21 people. A plaque along Commercial Street commemorates the ignominious event.
Eventually, the land was redeveloped into a more modern recreational facility. Today, visitors can still cool down in the same area where the beach once existed by visiting Mirabella Pool. A membership pass for adults is $20 for residents, $40 for non-residents. The adjacent Puopolo Playground, along with the neighboring Langone Park, recently began a multi-million dollar renovation to update part of the grounds' surface with artificial turf, rebuild the Little League diamond, add a batting cage and expand other amenities, including additional bocce courts, landscaping and improved drainage to safeguard against a rising sea level.