The Season of Giving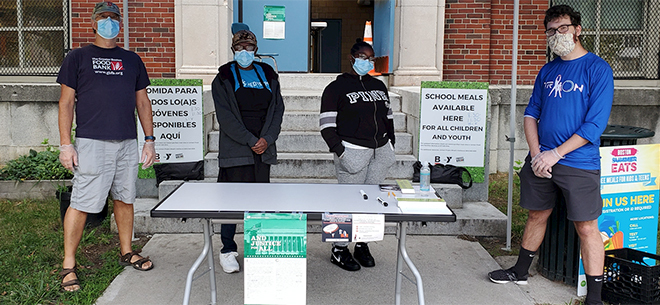 courtesy of Boston Cares
Three ways to spread some local love this holiday season
Volunteer
Giving your time is one of the best ways to give back to your community, and there's no shortage of worthy organizations that could use the help this year. The pandemic has made in-person volunteer opportunities scarce, yet organizations like Boston Cares still have maintained ways for those who want to help to do so in safe ways, either in the flesh or virtually. In the Back Bay, the Boston Living Center—a non-profit that looks after the health of those that are HIV positive—is accepting on-site volunteers to serve meals to its guests five days a week. Powered by the mantra "Food heals," Jamaica Plain-based Community Servings gets nutritious meals to the critically ill and their families. Volunteer at its kitchen Monday through Friday or donate online.
Donate
Donating both food and money can have a great impact. One of the region's biggest organizations dedicated to fighting hunger, the Greater Boston Food Bank in Dorchester, is no longer accepting walk-in food donations due to COVID-19 safety restrictions, yet financial donations through its site are always welcome. Another non-profit dedicated to feeding those in need is the Lynn-based soup kitchen My Brother's Table, which is currently accepting financial donations online as well as hats, gloves, mittens, socks and thermal undergarments as part of its Winter Collection event. COVID-19-related holiday hunger relief fundraisers are also in progress via an initiative by East Boston-based Project Bread. Form your own team or contribute to another by visiting their site. The New England Center and Home for Veterans in Downtown Boston is hosting the fundraiser Leave No One Behind Virtual Gala 2020 online through December 31, with funds going toward essential care for veterans in need. Over in Cambridge, the Harvard Square Business Association has set up its annual Giving Tree, an actual Christmas tree located at 27 Brattle St. where, through January 6, such necessary winter goods like hats, gloves, scarves and hand sanitizer are packaged in bags and hung on the tree's branches for anyone that is in need of them. Those wishing to donate can do so online, courtesy of the Lincoln Institute of Land Policy.
Shop Local
Small businesses are struggling right now, particularly in the food and restaurant industry, so instead of whipping up your own fixings and pies for the holiday this year, support a neighborhood eatery by indulging in one of its creations. Rosebud in Somerville offers some of the finest fruit-filled pastries around through its new online offshoot, Elm Street Sweets. Another Somerville-based pie specialist, Petsi Pies, is also a good choice for delicious, readymade desserts. Two great options for pastries and the like are Joanne Chang's renowned Flour, which boasts locations all over Boston and Cambridge, as well as Tatte Bakery & Café, which has outposts in the Hub, Cambridge and Brookline. A catch-all for a variety of tasty goods is Boston Public Market, where vendors selling everything from gourmet donuts and popovers to locally made adult libations and farm-fresh produce can be found. Bow Market in Somerville also features a cohort of locals offering outside-the-box Yuletide fixings—including vegetarian poutine, empanadas and bibimbap bowls—along with scones, handmade chocolate bonbons and macarons for dessert. There are vendors offering plenty of holiday gift shopping opportunities as well. Speaking of which, check out our story here for more ideas on how to support local shops and artists during this gifting time of year. You're sure to find something for everyone on your list.