Irish Pubs of the Hub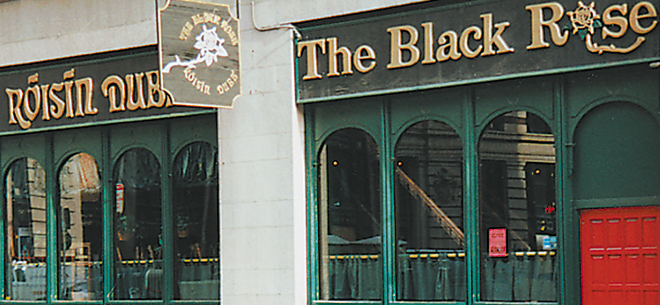 Outside of the Emerald Isle itself, Boston may be one of the best places to soak in genuine Hibernian hospitality by visiting any of its friendly Irish pubs. Luckily, just about every neighborhood has a good option for those looking for a pint or two this St. Patrick's Day, or any day.
Back Bay
Boston's lively shopping and dining hub hosts a pair of Irish pubs: MJ O'Connor's in Park Plaza, which also has a location at the Seaport's Westin Boston, and Solas at the Lenox Hotel on Boylston Street, a modern Irish tavern perched perfectly for prime people-watching.
Downtown
The grand dame of Boston Irish pubs remains The Black Rose (pictured), which boasts a central location adjacent to Faneuil Hall Marketplace and features live Irish live music just about every night, perfect pints of Guinness and delectable Irish fare. Speaking of Faneuil Hall Marketplace, Ned Devine's at the historic shopping and dining center's Quincy Market building remains a favored destination for weekend revelers and sports fans alike, who can relax in front of several HD projection screens. On the other side of the Marketplace, right by The Freedom Trail, sits Hennessy's, a popular stopover for live music—which goes all day on March 17—and single malt whiskey. Across from Boston City Hall, The Dubliner is a relative newcomer to the scene, boasting world-class modern Irish cuisine courtesy of Emerald Isle native Aiden McGee—including a traditional Sunday roast—and live music Wednesday–Sunday. Another green-tinged Downtown hot spot is Mr. Dooley's, a staple of the after-work crowd since 1991.
Fenway
The Lansdowne—located, appropriately enough, right behind Fenway Park on Lansdowne Street, the heart of the area's entertainment scene—is home to live music, delicious Irish and American menu specialties and a myriad of draught beer selections. The pub is also part of the ninth annual Get Lucky Official St. Patrick's Day Pub Crawl on March 18.
South Boston
There is no lack of Irish-ness to this neighborhood—site of the annual St. Patrick's Day Parade—and no dearth of Hibernian-flavored taverns as well. Ranging from upscale restaurants like Shenannigans to classic, hole-in-the-wall dives like the L Street Tavern (renowned as a filming site for the Boston-set film Good Will Hunting) and Murphy's Law, the pubs of Southie run the gamut.
South End
Hidden away off the beaten path near the South End's border with Chinatown, J.J. Foley's Cafe has nevertheless persisted longer than just about any other Irish saloon in the city. With origins going back to 1909, Foley's and its friendly, white-shirt-and-tie-clad staff offer authentic Irish hospitality and a glimpse into Boston's past.
Dorchester
Fans of the other "football" flock to The Banshee in Boston's largest and perhaps second-most Irish neighborhood. Catch the big-screen action as your favorite European clubs compete on the pitch while downing fish and chips along with a pint or two on one of two floors. Celebs, sports stars, U.S. Presidents and locals alike have been gathering at the Eire Pub for more than 50 years for its storied mix of food, drink and frivolity. For a genuine local vibe, check out JJ's Irish Pub & Grill, which features cheap pints, pool tables, darts and its signature "Irish pizza." And The Blarney Stone has been a favorite Dot dining and drinking destination for more than 35 years, claiming the distinction of being the first bar in the country to serve Guinness on draught.
Jamaica Plain
While the loss of the venerable Doyle's Cafe in 2019 was a blow to this neighborhood as well as the city itself, the Brendan Behan Pub, named after the Irish writer and poet, still remains to offer visitors to this area a pint of stout and a genuine Gaelic vibe.
Brighton
Brighton—a diverse, student-filled locale—has its fair share of pubs to explore. For those thinking green this March, the aptly named Irish Village—a neighborhood mainstay for decades that pours both Irish ales and local craft brews—is likely to be a prime locus for St. Patrick's Day cheer. There's also the friendly Corrib Pub, which claims to be the Brighton's oldest pub and also has an outpost in Boston's West Roxbury neighborhood.
Cambridge
Just across the Charles River from Boston, Cambridge and its many squares offer a host of Hibernian hangouts. Central Square is home to The Plough and Stars, a favored meeting place for fans of soccer and aficionados of amiable hospitality since 1969. For a more modern, nightclub-style vibe, head down Mass. Ave. to The Phoenix Landing. In Inman Square, The Druid boasts traditional Irish cuisine and authentic décor along with properly poured pints of Guinness. Recently relocated, the popular Grafton Street in Harvard Square was resurrected last year after a long hiatus to once again dish out a mix of seasonally inspired cuisine and warm hospitality. On March 17, enjoy a menu of St. Patrick's Day specials all day long.
Somerville
Cambridge's neighbor is a haven for some of the area's most admired Irish pubs. A revered location for downing both European and American brews and known for its diverse menu of American and Irish favorites as well as hosting traditional Irish and contemporary live music every day, The Burren has been a popular locus for Gaelic culture in Davis Square since 1996. Also in Davis, the classic Sligo Pub lies just down the street, having served plenty of brews in a no-frills environment for more than 75 years. And just a short jaunt away, Olde Magoun's Saloon in Magoun Square offers dozens of craft beer taps and a wide array of small-batch spirits along with innovative cuisine.