What's New on The Freedom Trail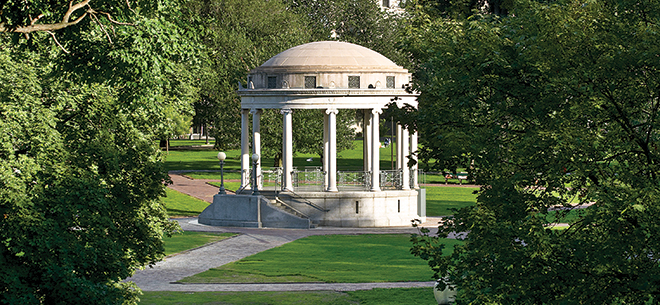 The latest on what's available to explore on Boston's historic pathway
Although a great treat for fans of U.S. history any time of year, spring and summer are prime time for exploring the 2.5-mile Freedom Trail, a collection of more than a dozen storied sites in the Hub. Although most COVID-19 restrictions have been lifted, not all Freedom Trail destinations are fully open to visitors, and official tours with the Freedom Trail Players are on pause. Here's a breakdown on the latest news from each of the 16 sites.
Boston Common (pictured): As a park—the oldest public park in America, by the way—the Common itself never closes. The Boston Common Visitor Center is open as well, and is welcoming folks daily from 8:30 a.m.–5 p.m.
Massachusetts State House: Although the golden-dome state capitol building atop Beacon Hill remains closed to tours, the grounds can be perused via request by calling 617-727-3676, and a virtual tour is available on the State House website as well.
Park Street Church: The 1809 house of worship is open for in-person services on Sundays at 8:30 and 11 a.m. and 4 p.m. It is, however, closed to Freedom Trail visitors.
Granary Burying Ground, King's Chapel Burying Ground and Copp's Hill Burying Ground: All three of the Freedom Trails historic cemeteries are open from 10 a.m.–4 p.m.
King's Chapel: Boston first Anglican church, boasting roots that date back to 1686, is open to worshippers only in the virtual realm, and its historical programs have gone online-only as well.
Boston Latin School Site/Benjamin Franklin Statue: Since the plaque marking the original location of the country's first public school and the likeness of the famed Founding Father are outdoors, they are free to view and visit in their locations next to Boston's Old City Hall.
Old Corner Bookstore: Once the center of literary life in Boston, this historic structure is now a Chipotle, so if you have a hankering for burritos or a "lifestyle bowl" (whatever that may be), pop on inside.
Old South Meeting House and Old State House: These sister sites, both operated by the non-profit Revolutionary Spaces, have announced plans to re-open on June 16.
Boston Massacre Site: This outdoor marker commemorating the slaying of five Bostonians by British soldiers on March 5, 1770 is open to visitors.
Faneuil Hall: The "Cradle of Liberty," originally completed in 1742 as a center of commerce and town meeting space, is welcoming the masses, although its first floor Visitors Center remains closed. Plans are to re-open that portion Wednesday–Sunday from 11 a.m.–7 p.m. beginning June 24.
Paul Revere House: The historic home, owned by the renowned midnight rider from 1770–1800, is open Wednesday–Sunday from 10 a.m.–4:30 p.m.
Old North Church: Current hours for those visiting Boston's oldest church are Thursday–Friday from 10 a.m.–4 p.m., with plans to expand to Tuesday and Wednesday on June 15.
USS Constitution: Located at Charlestown Navy Yard, "Old Ironsides" is available for touring Friday–Sunday from 10 a.m.–6 p.m., while the nearby USS Constitution Museum is open daily from 10 a.m.–5 p.m.
Bunker Hill Monument: The grounds around the landmark obelisk, as well as the adjacent museum, are open (the former daily, the latter Wednesday–Sunday from 10 a.m.–1 p.m. & 2–5 p.m.), yet those looking to climb the stairs to the top of the granite tower marking the pivotal 1775 Revolutionary War battle will find it closed.