Healthy in the Hub: Sarah Dussault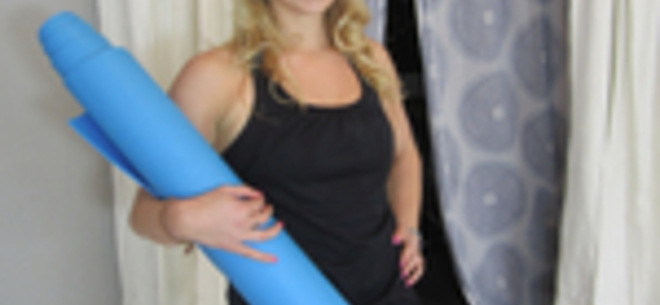 Sarah Dussault isn't a big fan of New Year's resolutions. "I feel like everyone forgets about them after two weeks," she says. "When it comes to weight loss, you start the diet and either don't see results quick enough and fall out of the habit or you get burned out. I try to tell people to make practical goals that are attainable."
The twenty-something fitness fanatic is no stranger to giving advice—she's had an avid audience since she started posting healthy living videos on YouTube in 2006. She now boasts one of the top female fitness channels in the country, with thousands of subscribers and more than 10 million views. She invites viewers into her life twice a week with fun, relatable videos that show her working out around Boston, whipping up healthy meals and even grocery shopping. In December, her first book
Sarah Fit: Get Skinny Again!
hit shelves, guiding readers through her favorite exercise routines and recipes.
"The book is for young women that were never told how to work out," Dussault explains. "In high school, I was a three-sport athlete, always had a coach, never had to figure things out on my own. When I got to college and no longer had that coach, or my mom doing my shopping … I had no idea what to do." She gained the dreaded freshman 15, then turned to health and fitness magazines to help her shed the weight. Now, she's the one guiding people through the weight-loss process.
While many fitness professionals migrate to Los Angeles or New York, Dussault is happy to call Boston home—and she has her self-made, self-sustaining online empire to thank for that. She never expected it when she was studying communications at the University of Delaware, but her blog is now a full-time job, making money via affiliate sales, brand sponsorship, impressions and campaigns. A certified personal trainer, Dussault also teaches classes at Boston-area studios such as Barry's Bootcamp and Back Bay Yoga. "Boston is starting to have a lot more studios so people can say goodbye to their big box gyms and choose what they want to do," she says.
Staying fit is a year-round commitment for Dussault, but she does have a few goals for the new year. "I'm excited for 2014 to look into figuring out my next steps," she says. "I'm hoping to get more into the local journalism scene, hoping to become a more local blogger than a national brand… Every year I'm surprised with the opportunities that are presented, and I've very rarely had chance to sit down and strategize. I'm going to really try to do that this year."
Follow along with Sarah at SarahFit.com.