Bostonian of the Day: Dennis N.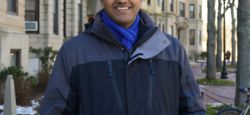 Samantha Murray
What do you do?
Well, right now I'm a student here in Boston. I'm majoring in human physiology and I'm also an RA.

What attracted you Boston?
I've always been a city guy. I grew up in New York. For my undergrad, I wanted to get out of New York, but I still wanted to be in an urban environment, so I thought Boston was the next best thing. I'm very happy with it.
What do you like about Boston?
It's a city, and it definitely has a city feel, but it's a lot smaller. I feel like I can explore everything without being overwhelmed, which is exactly what New York City is like. There's so much to do there, and you can never do it all. Whereas in Boston I feel like I can get around pretty easily and still be able to really embrace the city.
What neighborhood is your favorite?
The North End is probably my favorite, because it has such a classic Italian feel. And you have all the restaurants there, and all the pastry shops, you know, there's plenty to do. And then, overall, I just enjoy the feeling.

What would you recommend for a tourist?
Definitely visit the North End. It is a very big tourist attraction; visit all the Italian restaurants there. Definitely walk through the Boston Common, just get a feel of the park there. Maybe ice skating on the Frog Pond if it's winter. Just walk around the city. Beantown's just a great place to be in. You don't even really have to do anything.
Hidden gems?
One that I know is a restaurant called Paramount, I think on Charles Street, right near the Boylston stop on the Green Line. It's a great restaurant. I go there for brunch every so often, it's amazing.