All the Hubbub: What's On Display?
What Boston's Buzzing About Right Now
Boston is brimming with intriguing new museum exhibitions to explore. Here's a few to add to your to-do list:
1. Fish Out Of Water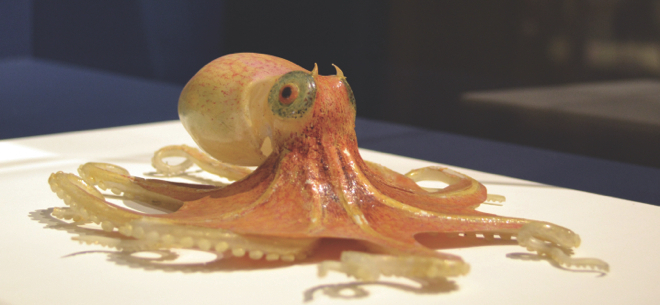 See delicate jellyfish and colorful anemones, tentacled squid and bizarre sea slugs, all meticulously sculpted out of glass to life-like perfection in the recently opened permanent exhibit Sea Creatures in Glass at the Harvard Museum of Natural History. The creatures, however, are not so new. Father-son artist duo Leopold and Rudolph Blaschka—renowned for their impeccable accuracy, attention to detail and dedication to beauty in glass making—crafted the creatures years before Harvard commissioned the pair in 1886 to build the famed Glass Flowers Collection for which they're known today. Both Collections at the museum comprise the largest Blaschka selection on display anywhere in the world, and are a sparkling testament to the legacy, skill and artistry of the Blaschkas.
2. California Dreaming
Always wanted to travel to the trendy West Coast yet haven't had the pleasure? Then travel in both space and time by viewing the more than 250 examples of mid-century modern design that make up California Design, 1930–1965: Living in a Modern Way at the Peabody Essex Museum in Salem. Working with a spirit of modernism and experimentation, California designers of the era sought to make everyday life beautiful and comfortable. Items in the categories of furniture, textiles, fashion, jewelry, film, architecture and more celebrate the innovation and pervasiveness of California's role in shaping material culture. You'll see the work of legendary design icons and learn about the social and geographic factors that led to this revolutionary design movement. As an added bonus, California residents get in for free after June 6.
3. Color Us Impressed
This spring, the Fenway neighborhood isn't just bursting with color outdoors. The Quilts and Color: The Pilgrim/Roy Collection show at the Museum of Fine Arts features an array of colors that would make Mother Nature envious. Featuring nearly 60 quilts dating from the mid 19th to early 20th century that range in pattern from simple to complex, this vibrant display echoes, and even anticipates, the masterpieces created by the American abstract art movements of the mid to late 20th century, ably demonstrating that great art isn't just produced by brushes, chisels and other traditional art implements, but can be crafted by cloth and stitches as well.
4. Cut and Paste
Most contemporary art doesn't strive to be accessible to the general public. That's where Spokane, Washington-born, New York-based artist Jim Hodges distinguishes himself. Spanning a quarter-century, the first comprehensive retrospective of his work debuts June 4 at the Institute of Contemporary Art. Hodges' penchant for using everyday materials such as shopping bags, scarves, books and light bulbs in clever and engaging ways is showcased in the sculptures, photography, drawings, collages and installations on display. Whether utilizing cut paper to create a lush landscape or mirrors and light to create a disco ball effect, Hodges brings life to the simplest of objects.
5. The Yuck Factor
What happens when disgust meets discovery? A recently opened exhibit at the Museum of Science, based on the best-selling children's book series Grossology, takes a humorous, not-so-proper approach to teaching the nitty-gritty science behind the human organism. Grossology: The (Impolite) Science of the Human Body uses sophisticated animatronics and imaginative exhibits to teach kids all about the oozy, crusty, scaly and stinky things you never thought you wanted to know about your body. Enter a giant nose and poke around the sinuses, or climb along the human skin wall using pimples, warts and other blemishes as your grip! Just dive right in—no need to mind your manners here.