Boston Accent: Buon Appetito!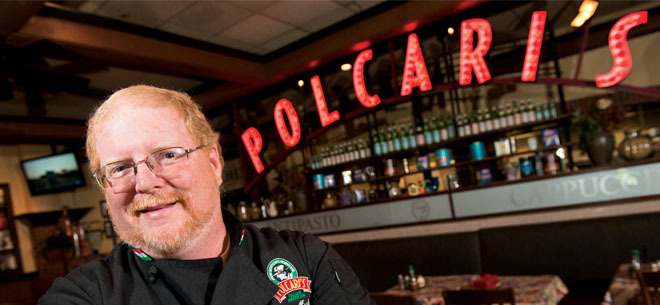 A passionate chef who takes his love for food seriously, Chef Louis Hubbell whips up a romance when creating the menu at Polcari's Italian Restaurant and Regina Pizzeria. "Inspiration never comes from just one place," he says about his cooking. "Sometimes you look at a fresh ingredient, a tomato, a beautifully ripe fruit or vegetable, a sparkling fresh fish and you just want to make it sing for you."
Chef Hubbell grew up near New Orleans and learned to cook on weekends at the restaurant where he worked as a busboy. "It was a kitchen staffed completely by women. They taught me not only their version of traditional Creole food and seafood, but Southern soul food as well," he says. After several visits to Boston, he fell in love with the area. "What really got me was a ride up to the North Shore. I drove through Gloucester and never left."
Bringing his experience to the storied kitchen of the North End's famed Regina Pizza and its sister establishment, Polcari's Italian Restaurant, Hubbell fit in seamlessly with the staff. "They all have so much to offer with food, stories and techniques. Food is the great common ground. You can talk food with anyone."
The biggest challenge Hubbell faces is staying true to the food's heritage while still keeping things fresh and current. "While most companies advertise that they make their own dough fresh daily, we make the dough every day and then allow it to age and develop flavor the way good sourdough is made," he states.

Regina boasts premium ingredients like specialty aged whole milk mozzarella and tomatoes grown and canned specifically for them. "That combined with the high heat ovens, and cooking directly on the brick, gives you a crisp crust with a soft interior that I believe is the best pizza in Boston." You'll also find Regina pizza at outposts around the city and throughout New England, as well as at Polcari's locations in Saugus and Woburn.
It's always worth a visit to the original Regina Pizza at 11 1/2 Thacher Street in the North End, a landmark since 1926. The neighborhood is renowned for delicious Italian cuisine, and Chef Hubbell, when in the mood for something other than pizza, loves to explore. "Right now I'm really enjoying Gennaro's 5 North Square. I recently had a Bucatini Amatriciana with Chef Marisa Iocco's house-made pasta and a sauce so balanced it made me cry. I have never met her, but she is a real Boston gem." —Samantha DiMauro