A Peek at the Past: Christopher Columbus Park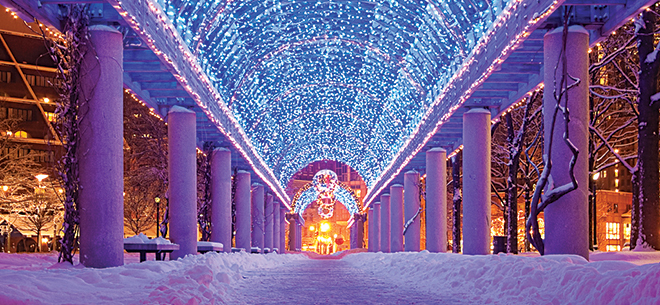 Photo: Igor Motov/Flickr
Boston is home to many beautiful, historic parks, from America's first public park, Boston Common, to the beloved Charles River Esplanade, to the Frederick Law Olmsted-designed gems of the Emerald Necklace. Not to be overlooked, however, are some spectacular green spaces that have been created in more recent decades. One such relative newcomer is Christopher Columbus Park along the North End waterfront. Completed in 1976, this 4.5-acre seaside oasis nestled between the Downtown wharfs and Boston's venerable Italian-American enclave is a relaxing and picturesque place to visit any time of year.
Boston's waterfront wasn't always the thriving locale it is now, however. Years of neglect—partly due to the separation of the waterfront from Downtown by the old, elevated Central Artery—began to be reversed in the 1970s with the movement to revive historic properties like Faneuil Hall Marketplace in time for the nation's bicentennial. In order to create a "walk to the sea," the creation of a nearby harborside park became the public extension of that private development plan. It was finished just in time to serve as a prime viewing spot for that July's parade of Tall Ships that visited Boston Harbor. Named simply Waterfront Park upon its debut, the green space was rechristened several years later in honor of the Italian navigator, who has a white marble statue in his honor at the park's center that was erected in 1979.
Park amenities include a rose garden and fountain named after former North End resident and Kennedy clan matriarch Rose Fitzgerald Kennedy, a playground, a cobblestoned walkway along the water and a seasonal spray fountain. The area's most prominent features are the wooden, arched and vine-encrusted trellises that are adorned every holiday season with colorful blue lights (pictured). Always a striking sight, this annual tradition is rightly a favorite for romantics out for a stroll and shutterbugs alike.