10 Top Spots for Classic Boston Dining
In the Hub's ever-evolving culinary scene, it's always a great idea to re-visit the restaurants that have stood the test of time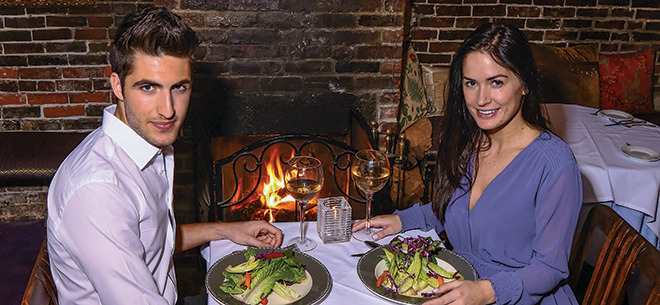 Photo: Andrew Swaine. Models: Ruben and Melissa Donovan for Model Club Inc.
The Hungry i
Dine on French countryside-inspired cuisine in one of the Hub's most unique, and romantic, settings. This intimate Beacon Hill eatery—which features two fireplaces—has occupied its space in a cozy brick townhouse for nearly four decades.
71½ Charles St., 617-227-3524, hungryiboston.com
Durgin-Park
Sassy waitresses, tender pot roast, market-fresh seafood and homemade Boston baked beans have been hallmarks of this Faneuil Hall Marketplace destination since 1827.
340 Faneuil Hall, 617-227-2038, arkrestaurants.com/durgin_park
Top of the Hub
This high-flying restaurant located 52 floors above the Back Bay has been offering exceptional cuisine, panoramic views and cool live music for decades.
800 Boylston St., Prudential Center, 617-536-1775, topofthehub.net
Jacob Wirth
A distinctive German flair has been a hallmark of this venerable Theatre District bar and restaurant since its namesake opened the doors in 1868.
31–37 Stuart St., 617-338-8586, jacobwirth.com
Davio's Northern Italian Steakhouse
Originally on nearby Newbury Street, where it resided when current owner Steve DiFillippo purchased it in 1985, this longtime institution has grown into a nationwide powerhouse of top-notch Italian fare. The flagship Back Bay location has been a haven for celebrities and fine dining fans alike.
75 Arlington St., 617-357-4810, davios.com/bos
Marliave
A downtown landmark since 1875, Marliave was re-tooled by restaurateur Scott Herritt in 2008 and has been thriving ever since.
10 Bosworth St., 617-422-0004, marliave.com
Warren Tavern
This historic Charlestown pub, established in 1780, claims George Washington and Paul Revere as former patrons. So why not you?
2 Pleasant St., 617-241-8142, warrentavern.com
Amrheins
A South Boston family favorite, this venerable dining room has been serving its customers since 1890.
80 West Broadway, 617-925-6709, amrheinsboston.com
Ye Olde Union Oyster House
America's oldest continuously operating restaurant has been slinging oysters, broiled scrod, boiled lobster and other New England seafood staples along with a side of history since 1826.
41 Union St., 617-227-2750, unionoysterhouse.com
Regina Pizza
The original North End location, established in 1926, remains one of the best spots for brick oven pies in the city.
11½ Thacher St., 617-227-0765, reginapizzeria.com