10 Top Day Trip Excursions
Trek to these exciting events and attractions, all within about two hours of the Hub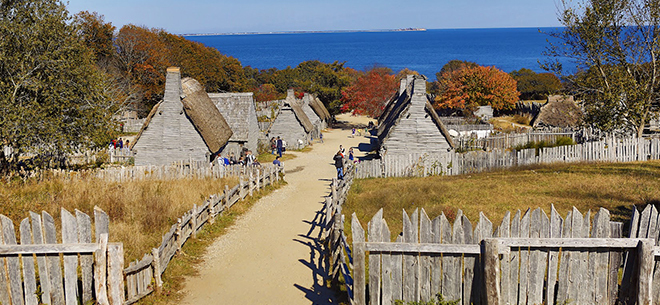 Plimoth Plantation
Now is the perfect time to visit the site where Thanksgiving began. A re-creation of the village where English settlers first set up camp in 1620, this living history museum featuring period-costumed interpreters also honors indigenous people with the Wampanoag Homesite, which offers insight into how they lived in the 17th century.
137 Warren Ave., Plymouth, 508-746-1622, plimoth.org (pictured)
Pilgrim Monument
This tower at the tip of Cape Cod lights up on November 21, complete with refreshments and entertainment, to mark the first landing of the Pilgrims in the New World.
1 High Pole Hill Road, Provincetown, 508-487-1310, pilgrim-monument.org
City of Lights
Celebrate the holidays early with this 30th annual festival in the Merrimack Valley that features a parade, family activities, trolley tours, carolers, food trucks and more on November 24.
Downtown Lowell, 978-674-1482, lowellcityoflights.org
Coastal Wine Trail
Wineries abound along New England's southeast coast, so hit the road—with a designated driver, of course—to sample vintages (and, in some cases, craft beer and exquisite food) in picturesque communities in Cape Cod, Buzzard's Bay, southern Connecticut and Newport, R.I.
Norman Rockwell Museum
Creator of hundreds of classic magazine covers and painter of many revered images of American life in the mid-20th century, Norman Rockwell lives on at this institution which preserves his work while highlighting the art of other well-known American illustrators.
9 Glendale Road, Rte. 183, Stockbridge, 413-298-4100, nrm.org
MASS MoCA
This massive arts facility located in the northwest corner of the state hosts a variety of large-scale installations and performances.
1040 MASS MoCA Way, North Adams, 413-662-2111, massmoca.org
Naismith Memorial Basketball Hall of Fame
A must for hoop fans, this temple to sport is situated in the city where it all began.
1000 Hall of Fame Ave., Springfield, 877-4HOOPLA, hoophall.com
Peabody Essex Museum
Located in the historic Witch City, this venerable institution is the oldest and one of the fastest-growing museums in the nation.
East India Square, 161 Essex St., Salem, 866-745-1876, pem.org
Old Sturbridge Village
An early 19th century New England hamlet is replicated on this museum's sprawling campus, which features 40 antique structures imported from throughout the region and costumed historians who illuminate rural life in the 1830s.
1 Old Sturbridge Village Road, Sturbridge, 800-733-1830, osv.org
Shalin Liu Performance Center
Located near Bearskin Neck and its iconic Motif No. 1 fishing shack, Cape Ann's state-of-the-art, acoustically superb venue hosts musical acts from around the world that represent genres from folk and classical to pop and blues.
37 Main St., Rockport, 978-546-7391, rockportmusic.org