A Peek at the Past: Crispus Attucks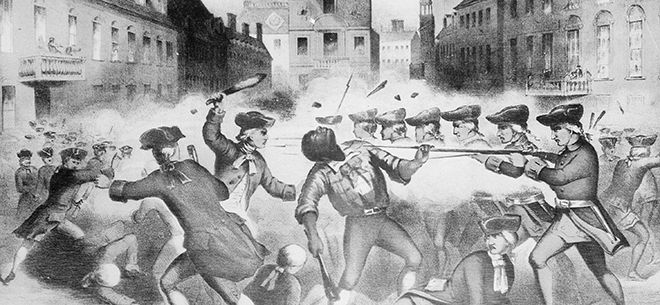 Courtesy of the National Archives and Records Administration/Wikimedia Commons
Of all the victims of the incident that came to be known as the Boston Massacre, Crispus Attucks is perhaps the most celebrated. This early patriot has had everything from schools and parks to streets and even a theater named after him. Despite all this, however, many questions still remain unanswered about the life of this famed historical figure.
Thought to be of both African and Wampanoag descent, Attucks was born in Framingham, Mass. around 1723, and was likely an escaped slave who later became a sailor and dock worker. Although his exact lineage and origins are a matter of debate, there is no doubt that Attucks was one of the first casualties leading to the American Revolution, which many argue began on the fateful day of March 5, 1770.
That evening, Attucks—who was reportedly in the Hub as he waited to ship out to North Carolina—was part of a crowd that had amassed near what is now known as the Old State House. A group of British soldiers—part of a contingent trying to maintain order when tensions over much-maligned taxes levied by the crown mounted to a crescendo—were being jeered by the gathered Bostonians, who were not only angry about the Redcoats' presence in their town, but also the recent death of 12-year-old Christopher Snider. Snider died at the hands of an overzealous customs agent who fired a gun into an angry mob that had formed in front of his house that February. When one of the soldiers fired in response to being pelted by rocks, snowballs and a piece of wood (possibly hurled by Attucks himself), a volley by the other riflemen was triggered, leading to the death of five citizens. Attucks is believed to have been the first to perish. His body was transported to Faneuil Hall, where it lay in state for several days prior to its burial.
Decades following his death, Attucks was adopted by the anti-slavery movement, who held him up as a hero who laid down his life for his country. Attucks has also been immortalized in a book by Martin Luther King, Jr. and in songs by Stevie Wonder and Nas.
For those who'd like to pay tribute to Attucks and the others slain on that infamous night 249 years ago, a visit to their final resting place at the Old Granary Burying Ground along the Freedom Trail is a must. Erected in 1888, a memorial depicting the Boston Massacre victims lies on Boston Common, while an exhibit of the pivotal event can be found at the Old State House.