High 5: Hidden Patios
People-watching while dining al fresco is fine, yet sometimes enjoying a meal away from prying eyes rules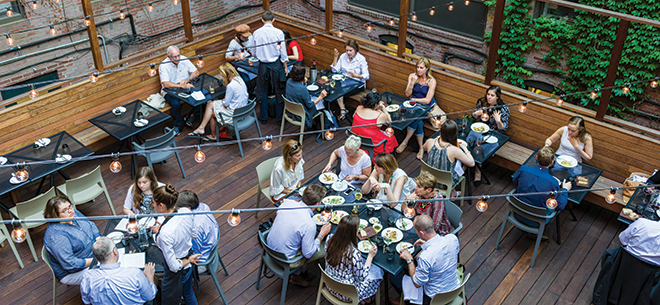 The Hungry i: The hidden garden courtyard at this French-accented Beacon Hill mainstay is the perfect spot for a romantic rendezvous.
B&G Oysters: Sup on oysters, lobster rolls, clam chowder, fried calamari and more in relative privacy on the sunken patio at Barbara Lynch's South End seafood eatery.
SRV (pictured): Acclaimed for its innovative, Venetian-style small plates and fresh-made pasta, this South End hot spot also boasts a tucked-away back deck dining area.
Casa Romero: One of the most authentic Mexican restaurants in New England, this culinary pioneer remains a hidden gem, along with its patio that is ideal for sipping margaritas on a sunny afternoon.
Harvest: This Harvard Square farm-to-table favorite offers a relaxing, tree-shaded terrace surrounded in greenery.