High 5: Feast of the Seven Fishes
Savor the traditional Italian-American seafood repast this Christmas Eve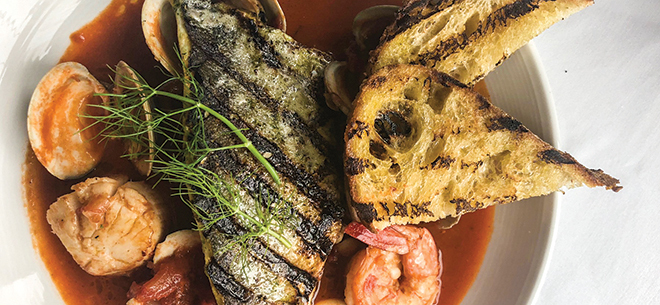 Davio's Northern Italian Steakhouse (pictured): Varying from one location to another, all Davio's outposts are featuring a special three-course dinner from 4–10 p.m. for $75, along with the regular menu.
Uni: Enjoy a seven-course Japanese omakase twist on the tradition—paired with Italian flavors from the childhood of chef Tony Messina—in the week leading up to Christmas.
Bar Mezzana: The acclaimed South End Italian eatery celebrates a day early on December 23 from 5–10 p.m. with a prix fixe, seven-course version from chef/co-owner Colin Lynch that features grilled calamari, baked clams, spaghetti with mussels, grilled swordfish and convivial communal seating.
Coppa: Another South End haunt highlighting the bounty of the ocean the night before Christmas is this neighborhood hangout from James Beard Award-winning chefs Jamie Bissonnette and Ken Oringer. From 4:30–9 p.m., savor yellowfin tuna crudo, squid ink ravioli, fish stew and more.
Il Molo: The very Italian North End is the perfect place to experience the Seven Fishes. This waterfront restaurant stretches the celebration, offering its courses for the feast—lobster fra diavolo, stuffed calamari, branzino and more—a la carte from December 20–24.