High 5: Chocolate
Top spots to indulge your cravings in the Hub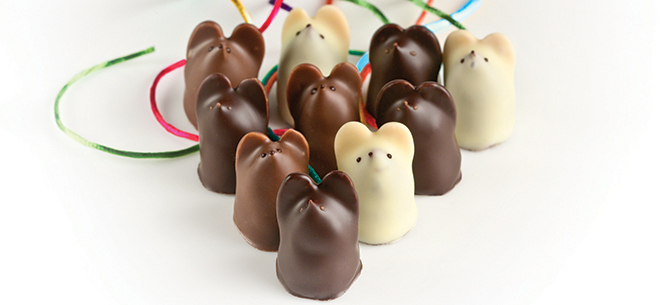 Taza (561 Windsor St., Somerville, 617-284-2232, tazachocolate.com): Tour the factory of this acclaimed maker of stone-ground goodness.
Goodnow Farms (80 Goodnow Rd., Sudbury, 978-579-4939, goodnowfarms.com): The award-winning, ethics-conscious chocolatier vends its wares at Boston Public Market.
Max Brenner (745 Boylston St., 617-274-1741, maxbrenner.com): The chocolate-focused restaurant boasts a Back Bay outpost.
Gâté Comme des Fille (1 Bow Market Way #8, Somerville, 617-764-5872, gatecommedesfilles.fr): Enjoy handmade chocolates at this Bow Market store.
L.A. Burdick (220 Clarendon St., 617-303-0113; 52 Brattle St., Cambridge, 617-491-4340; burdickchocolate.com): Visit Back Bay or Harvard Square for chocolate mice (pictured), gourmet hot cocoa and more.