High 5: Thanksgiving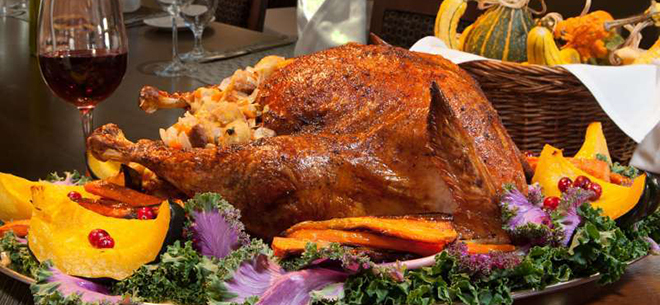 courtesy of Davio's Northern Italian Steakhouse
Even in 2020, there's much to be thankful for and many ways to still celebrate the holiday in person or by ordering to go from these local eateries
Davio's Northern Italian Steakhouse (pictured): On November 26, all Massachusetts locations (sans Logan Airport) are serving a deluxe Thanksgiving feast, featuring roasted Vermont free-range organic turkey and all the trimmings. Select from several desserts as well, including apple and pumpkin pie. There's even a take-home version that's available for pickup on Turkey Day or the day before the big day.
The Smoke Shop: Want something a little different for the holiday this year? Then indulge in pork loin ham or smoked brisket (and yes, smoked turkey, too) along with a la carte sides like mashed sweet potato, which can be ordered by November 22 and picked up November 25 at any location—including the brand-new one in Harvard Square. Boxed meals for two and four people are also available.
Stephanie's on Newbury: Order by November 20 for pickup on Thanksgiving morning and you can enjoy this Back Bay classic's take on the traditional holiday meal, which includes organic, farm-raised turkey brined in-house; sides like whipped potatoes and caramelized Brussels sprouts; and either pumpkin or pecan pie for a sweet ending.
Komyuniti: Available on site or to go, several options for T-Day feasting can be found at this restaurant located at the Seaport's state-of-the-art Yotel Boston, including the pescatarian (lobster and prawn, anyone?) and vegetarian packages. There's even a stay and celebrate package (with wine and parking included!) for those who want to plan an overnight getaway.
Strega Italiano: For a Mediterranean spin on the holiday, trek to one of three locations of this local favorite, which dishes a three-course festa featuring arugula salad or roasted butternut squash soup to start; herb-roasted turkey with three sides, including duck fat-roasted root vegetables; and apple tart or pumpkin pie for dessert. The meal is served November 26 from noon to 8 p.m.
For the latest CDC guidelines on making holiday plans, please visit cdc.gov.