High 5: Fireside Dining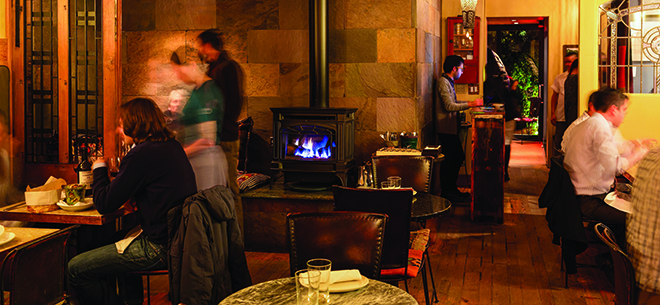 Photo: Kristin Teig
Get your romance on by taking advantage of these fine eateries featuring roaring hearths
Pammy's: This Italian-leaning restaurant between Cambridge's Central and Harvard squares boasts a fireplace wrapped in white ceramic tile with dual openings so diners—who flock here for its list of American and Italian vintages, handmade pasta, fresh seafood and the welcoming spirit of husband-and-wife owners Pam and Chris Willis—can feel the heat throughout the room.
The Banks: This relative newcomer to Boston's famed seafood scene smartly retains the fireplaces of its dearly departed predecessor, Post 390, allowing diners and bar patrons on every level to bask in warming comfort while supping on raw oysters, caviar, bluefin tuna, lobster rolls and more.
Oleana (pictured): Ana Sortun's widely lauded classic between Cambridge's Kendall and Inman squares is inspired by the cuisine of Turkey and the Middle East. You'll be inspired to (ahem) perspire by the creative and exotic food as well as Oleana's charming, fireplace-accented ambiance.
Publico Street Bistro & Garden: For a more casual scene, head to this South Boston hot spot for its take on global street food, inventive cocktails and the ski-lodge vibe in the outdoor courtyard, complete with fire pit.
River Bar: Year-round outdoor dining is possible at this hangout in Somerville's Assembly Square thanks to flaming fire pits that keep things lively along with the outstanding craft cocktails—including hot drinks like the almond chai latte with spice rum—and a menu of shareable dishes influenced by cuisine from all over the world.
For the latest on COVID-19-related public health mandates for the City of Boston, visit here. For the latest on Cambridge, go here. For Somerville, go here.